This one has actually been sitting around for a while as I got up the desire to type it out. I figured I'd do it as a follow-up to Darwin Day. What you're looking at here (or will be, as you stop reading and gaze at the image) is the caterpillar stage of the spiny oak-slug moth, which is a pretty horrendous name so let's just stick with the scientific Euclea delphinii. Apparently, in most cases the caterpillar is much brighter in color, but here it's remarkably well camouflaged to appear as a spot of lichen on a tree trunk. And since this is the size of a fingernail, it's not hard to imagine how easy it is to miss.
What brought it to my attention, though, was the same thing that allows us to spot other species despite their camouflage, provided we make the effort: the symmetry. Bi-lateral symmetry (that is, mirroring details on either side, like two eyes, four legs, etc) is actually a very common thing among living species, having established itself way, way back in the evolutionary timeline. Even species so dissimilar to us as jellyfish display this trait. It's dictated by something called Hox genes, and without it, species would probably appear a lot more random.
Obviously, if the patterns of this little guy were randomly distributed, rather than so distinctive, it would have an even better form of camouflage. But to do this, the Hox genes would have to be very selectively inactive – enough to allow for color patterns to be asymmetrical, but not enough to produce six legs on one side and two on the other. That's a very specific mutation. Moreover, for natural selection to favor it, it would have to generate some advantage (or, be common enough to carry while otherwise not being disadvantageous – neutral traits can continue too.) While we might think that asymmetry would help a lot towards not being recognized by predators, there isn't much evidence that many predators are likely to recognize symmetry as a telltale. The color and the fuzzy shape may be enough. However, there are some other factors too. Many birds can see a much wider range of colors than we can, so even asymmetry might be a very minor factor against not matching the shade of lichens very closely. And this says nothing for how effective those little spines might be (I didn't try to handle it,) or its scent or taste. So perhaps asymmetry simply didn't have enough selective pressures to evolve.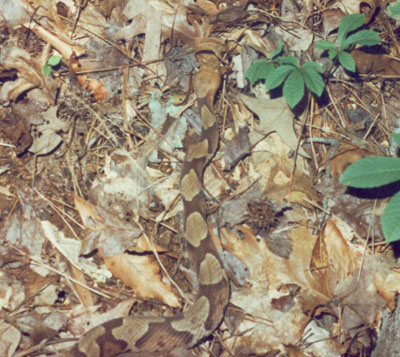 Some species do display some asymmetry though, albeit limited. Here, a northern copperhead (Agkistrodon contortrix mokeson) displays some mismatching patterns at the spine, and apparently the southern subspecies (A. c. contortrix) can display patterns that don't even connect at the spine. Now, here's something interesting, because it seems it's not a common trait among the other variants in other parts of the US, just among A. c. contortrix in the southeast. I haven't found that anyone has studied this to determine why this might be (grad students, feel free to use this suggestion, just remember me when the book royalties come in,) so I can only speculate. But the predatory species of birds would be different between a copperhead and an Euclea, and it's possible that a species of raptor in the southeast might have better eyes for asymmetry than other raptors where the other subspecies of copperhead can be found. Or this might be way off the mark, and it's actually influenced by diet or habitat. Myself, I favor blaming the longneedle pines.
Any way that you look at it, little things like patterns can be the tip of the iceberg, indicating a much more detailed genetic and environmental history than the impression such mundane camouflage leaves us with. And if you're into wildlife photography, remember to stay alert for the patterns.