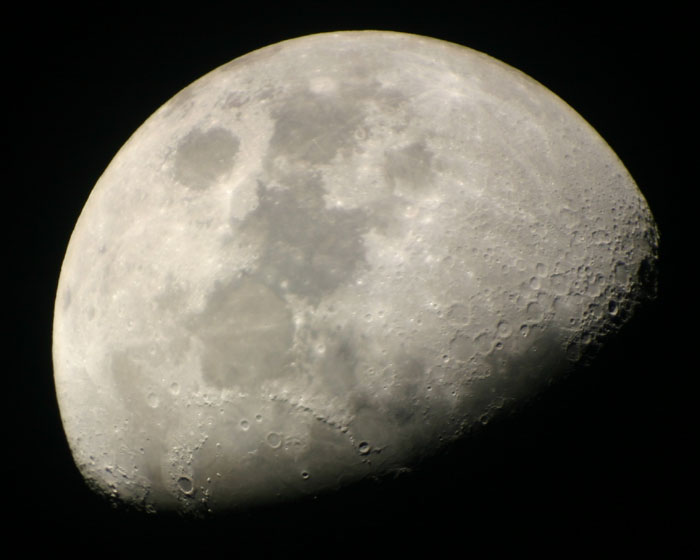 Today marks the 40th anniversary of a remarkable accomplishment for us, as a species: Walking on the surface of another body in our solar system. Despite the politics, despite the nationalistic fervor, despite the questionable use to us at a time when we had lots of more important things to think about on our own planet, despite even the fact that Armstrong flubbed the line (I'm sorry, really, but he did), this one event will stand forever as a milestone for all humankind.
I was three years old – I missed the awe and the excitement by a mere smidgen of attention-span and understanding. And I'm sorry to have missed it. But I also grew up on the space program, collected books and photos and posters, built models, and watched the later Apollos and soon afterward, the Skylab missions. Even at a young age, I could absorb some of the amazement at how much we were accomplishing from an engineering standpoint. As I grew older, this has only grown – the space program was a peak in our scientific problem-solving capability that I feel safe in saying we haven't surpassed since. We flirted, in so many ways, with disaster, and regretfully witnessed it a few times. Not just Apollo 1, Challenger, and Columbia, but Bondarenko's pressure test fire and Soyuz 1. There are those that feel that any lives lost represent both too much risk, and a failure of the programs. I can't agree – some things are worth the risk, and every one of those who lost their lives in these endeavors knew just what the stakes were. Hell, give me the choice of a rocket exploding underneath me on the way into space, or dying in bed of cancer, and I'll go with the rocket every time.
What's funny is that, now that I think about it, my perspectives on this as I grew up seem to parallel our country's perspectives on the space program. Early on, it was fascination, awe, wonder, and a pretty powerful desire to do that myself someday. Then it began to get more detailed as we got past the excitement of walking on the moon and began seeing what else we could accomplish with Skylab, living in space and working in shirt sleeves. Still very cool, but not "exploring" and "new frontiers" so much. Then the promise of the space shuttle, going from initial sketches to the idea that this really was going to fly, soon marred by the budget and design issues. The various tests of the shuttle would perhaps have been more fascinating if they didn't seem to be repeats of the Mercury and Gemini tests – now it was almost beginning to be routine. And finally, we started seeing the shuttle from a cost-effective viewpoint, all grown up now and trying to balance the budget. It's a shame, really, because the space program gave us so much wonder and pride, and the energy to do just about anything, and now we seem bound up by responsibility.
In direct contrast to this public attitude, it seems to me, is what we have added to our body of knowledge during that same time. I grew up with books that speculated on where the moon came from and where the age of the universe was "between 10 and 20 billion years." And I watched all of this change, and not gradually either. Black holes, speculative when I was even in high school, are now virtually proven, and we have mapped the variations in the Cosmic Microwave Background, the dissipating heat from the origin known most unfortunately as the Big Bang (13.7 billion years ago, now). Astronomical knowledge has grown, well, astronomically, and we add to this constantly. We have a satellite in orbit around another planet that took a photograph of a planetary probe as it descended by parachute! Not impressed? We have hundreds of satellites in orbit around our own planet, and to the best of my knowledge we have no photos of any spacecraft entering our atmosphere.
Take a look at that photo above. Right in the center, there's a dark lunar Mare, and to the immediate right, there's a brighter portion about like a chicken head eating a speck. From this perspective, just below and to the left of that speck is where it all began. That's Apollo 11's landing site. Yuri Gagarin was a hero himself, don't get me wrong, and so were all of the other spacefarers who contributed to every country's program. But right there, 40 years ago, we knew what we could accomplish. We walked on the moon.
If you lived through it, or even close, be sure to take aside someone much younger and try to convey some sense of this spirit. We still need it.