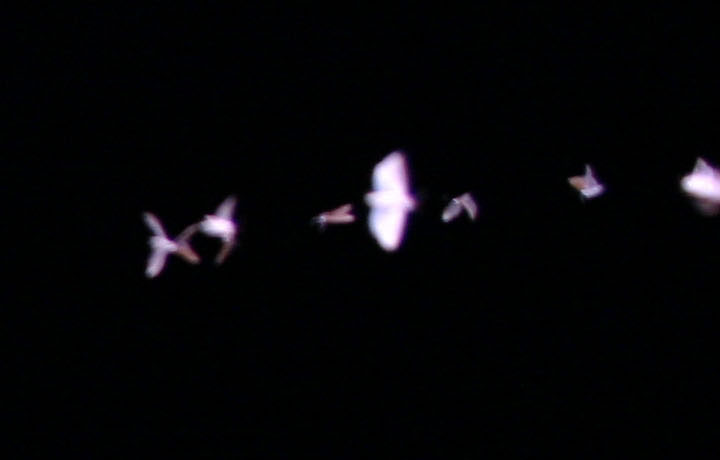 It's been longer than I planned since my last set of posts, and I actually had something else intended this weekend that didn't work out – basically, my telescope was way the hell out of collimation. For a reflecting scope to work properly, the mirrors have to be precisely aligned, otherwise you can't get properly sharp images. It's still not up to snuff, so I'm leaving that photographic project as a post for another day. I'm digging in my archives for this one.
You might have already guessed by now that I'm fond of photographic experiments. I purchased a used camera kit from someone a while back, and included with it was a Metz Mecablitz 40MZ 3i strobe unit, or a "flash" in the common tongue. And in figuring out what the flash was capable of, I found it had a neat little option: firing off a rapid string of light bursts like a strobe light. With an appropriately long shutter speed and dark conditions, this meant I could use the flash to produce a string of individual images of a moving subject all on the same frame. The very brief duration of each burst of light (probably somewhere between 1/1,000 and 1/10,000 of a second) would "freeze" most subjects and allow for a succession of its progress as it moved, like motion picture frames all combined together. Neat!
Last summer, as I was down at Jordan Lake taking a chance on seeing the Space Shuttle Endeavour cut across the sky (the launch was bumped), I quickly realized the dark night sky was simply bursting with activity, in the form of insects, bats, and one probable nighthawk that cut so close alongside my ear I heard the burr of wings. And suddenly I remembered the flash. Hey, all I needed to do was fire it off as I saw a bat passing, and try to have decent focus!
Yeah, right. There's only so much power a flash unit can put out, especially if it's trying to fire off 16 bursts without recharging. That means going for a wide aperture to let in as much light as possible to even get an image, and that means the focus range is very narrow. Not the best thing when going after incredibly fast-moving flying critters that you haven't even gotten a decent look at, much less a chance to focus. So, the only thing I could really do was take a stab at a focus distance and hope for good luck.
Now, despite what you might think looking at these two images, I actually consider myself lucky to have gotten anything. Sure, I would have liked better, but to capture something really worthwhile I'd probably need to control the conditions a bit better. However, I captured something, I think, more than intended. If you look closely at the top image (and this is a full resolution crop from the original frame,) you'll notice that the shapes and colors seem to alternate a bit. You would certainly expect a flying subject to be in different positions for each burst, but color and size? What I think I might have caught here was a bat pursuing a moth, right before (or at) capture. I'm open for other explanations – the detail obviously isn't overwhelming. But it certainly seems to be two different critters there, at different distances from the camera – the smaller one is sharper, and has more mothlike wings.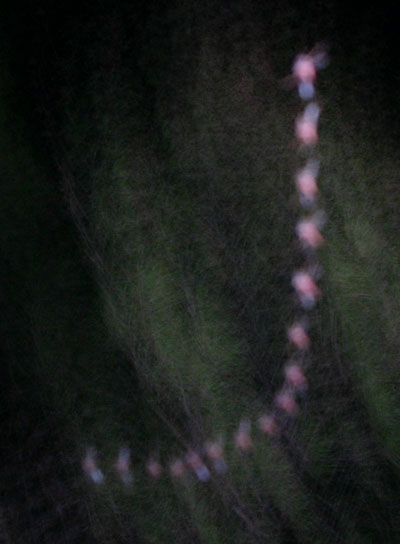 One other frame, at right, was also successful, to a small degree anyway, and this looks far more like a bat. Again, not in the focus range, but at least I got it better in the frame. The strange background is 16 successive images of the nearby tree, while not holding the camera steady (hey, it was bad enough even trying to see a bat in the dark, there was no way I'd get one to swoop nicely through the frame while the camera was on a tripod.)
Perhaps someday, I'll tackle the project of getting a good photo, or sequence, of a bat on the wing. But the preparations necessary to increase the odds beyond blind luck are extensive, and I'll get into that in detail in another post. Or, I could simply shoot madly for long periods of time in the hopes that at least one will come out great, but that's hardly an efficient way of doing it. This brings us into one of the debating points about nature photography: staging shots. That might even turn out to be more than one post, but not right now. Stay tuned.