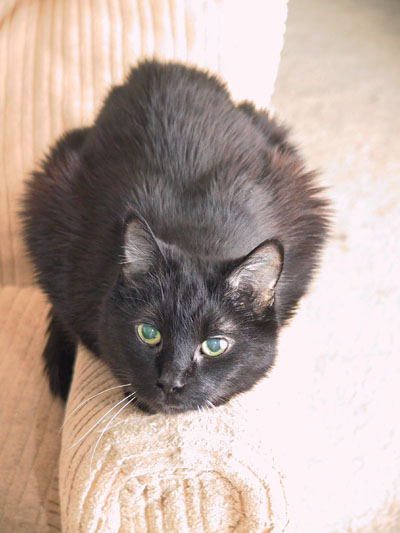 As I finish typing this, it will be April 15, 2010. My cat Ben, pictured here, turns eighteen years old.
Well, more or less. Ben is a shelter cat, adopted at roughly two months of age in June 1992. He was born sometime in April it would seem, so I arbitrarily picked the middle of the month.
At the time he was adopted, he was a ghost tabby – a black cat with deep grey classic tabby markings, the blotches sometimes described as a "bullseye." He was also then considered a female, not being the most prepossessing male kitten ever seen in the shelter. So at first, "she" was called Raven, largely because ravens can display much the same coloration sometimes. But around four months, the testicles became apparent, and the adult coat came in – all black, with one little smear of very deep brown on the shoulder. He was renamed "Benedict," because he was a turncoat of course, and Ben he remained thereafter.
He's everyone's friend, and loves company. He's lived in four different states with me, including this one twice, which is quite a chore for someone who hates being in the car – he's logged several thousand miles just going to new homes. He's not very bright, never has been, but he's amiable.
Ben's showing his age now, has been for a while, and it was questionable whether he would make this milestone – legal age, able to vote and join the armed forces. It may not be much longer, but I can't feel too sad about that. He's hung around longer than many cats do, and been a good friend that whole time. Never got lost, never got terribly sick, no major operations save neutering at six months. He has virtually no teeth now, and his coat gets matted easily – he looks pretty messy (the pic is a few years old.) And of course, he just jumped into my lap right now to help me compose this. No, my mistake, he just wants attention.
Happy birthday, old guy.