If you're thinking these are just more pics left over from the previous post, you're wrong! (Boy, I enjoy that way too much.) Instead, we had another electrical storm roll in right around sunset, mostly well to the south, when the sky was still too light to do time exposures. I had considered trying for more shots once the sky got dark enough, but the front seemed to pass before that happened. Then, another blew in, and I skipped over to a nearby pond because the angle was right for that one. Two electrical storms within 24 hours is rare enough; catching lightning photos in both, after going years in some cases without anything at all, is almost scary.

This particular strike simply maxed out the exposure, even though I was using the same settings as the other frames – it happens sometimes. It's a little ironic in finally capturing a decent bolt placed well in the frame and having it far too bright to be useful, totally bleached out. In fact, let's take a closer look:

This is a detail crop of the part at the treeline, showing the peculiar effect where the outlines of some of the arms are just barely registering. More interesting, though, is when we turn our attention to the reflection in the water below: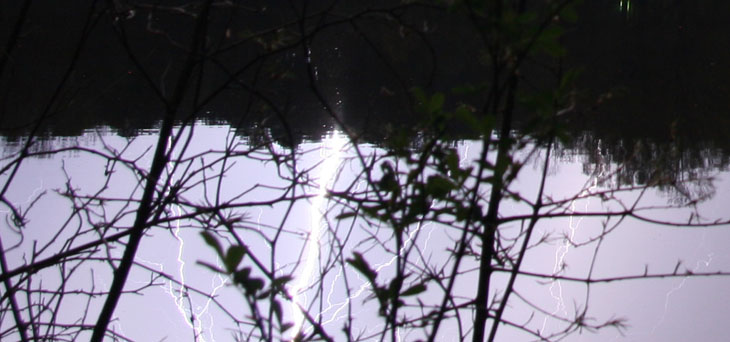 Because water darkens (and polarizes) what it reflects, the bolt itself was reduced enough to become visible. If you scroll back up to the full-frame image, check out the trees to the side, which received enough light from that strike to become faintly illuminated in the frame. That is, seriously, a lot of light from that few milliseconds.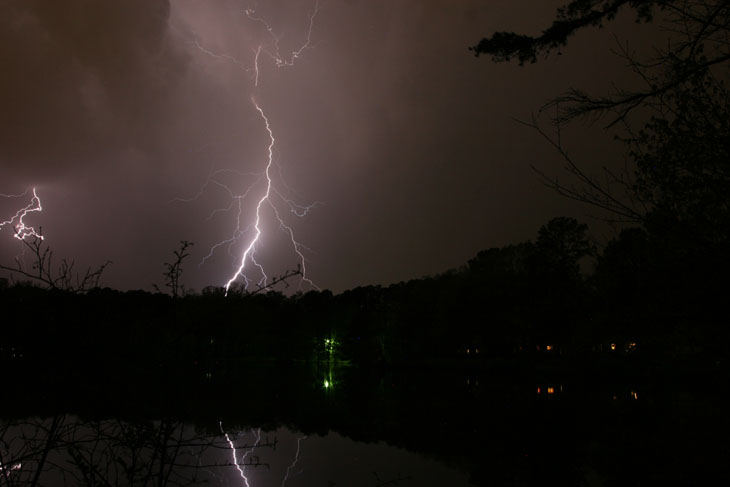 While I captured several quite compelling frames (at least, I think so,) I also have several where a distinctive bolt fell just outside of the field of view, throwing some glow in the sky and sometimes a thin arm, but nothing else. Considering that the entire shooting session lasted 11 minutes, there's no way I'm complaining over the results.
My favorite is a vertical, so we're going to go long for this one: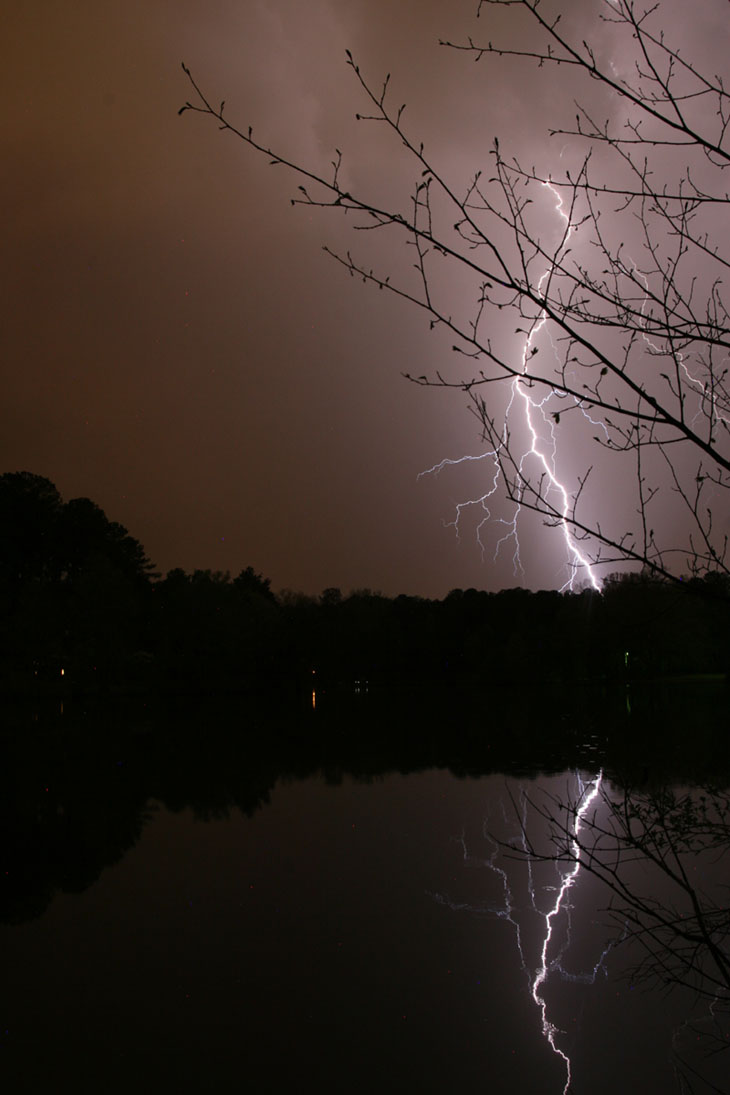 I wanted to try and get more sky and some more foreground branches in, and this bolt obliged nicely. The rain, which had held off until literally ten seconds after I'd called The Girlfriend to come join me for the show, had started up for this frame – not getting onto the lens, thankfully, but showing in the water. And that crop makes for another fartsy composition by itself.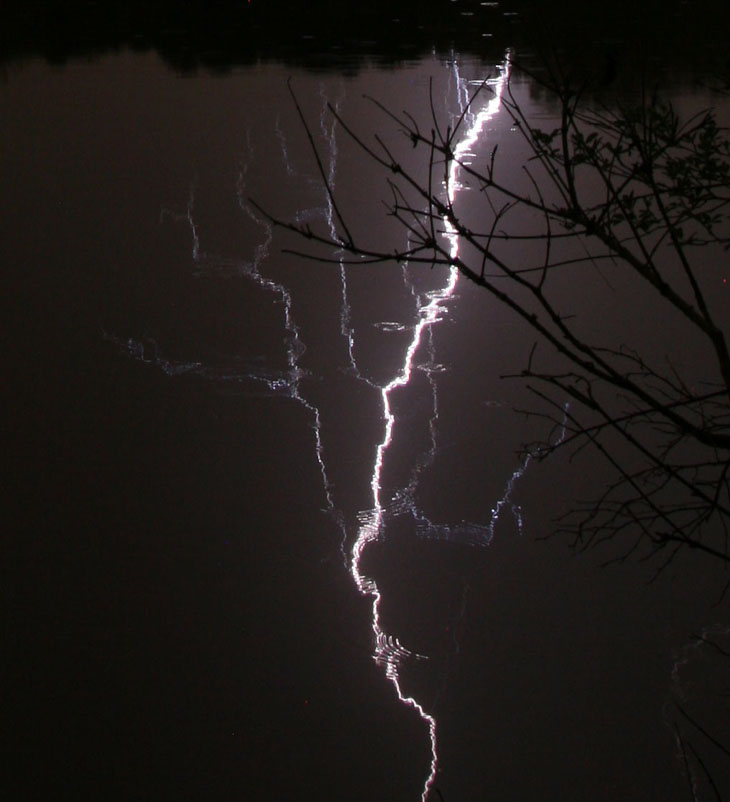 I'm not terribly accomplished at finding surreal aspects to capture directly, without camera tricks (though it happens sometimes,) but when I do, I'm happy. Soon after this the rain had become too hard to trust having the camera out, and I wrapped up and trotted home, the camera safely within the bag and staying drier than I did.
I was in the process of editing these pics for the blog when the front seemed like it was centering directly overhead, which is a recipe for a power surge that can fry computers, so I shut down. About ten seconds afterwards, a strike occurred so close that it sounded like a car hit the house, and somehow the damn smoke detector got triggered for a few seconds (still not sure about that one, since the power didn't seem to trip.) The Girlfriend's Younger Sprog was out on the screened porch and came in half-deaf – it was pretty impressive. But this delay meant I couldn't actually post on the same day these were taken, it now being past midnight. Such disappointments.