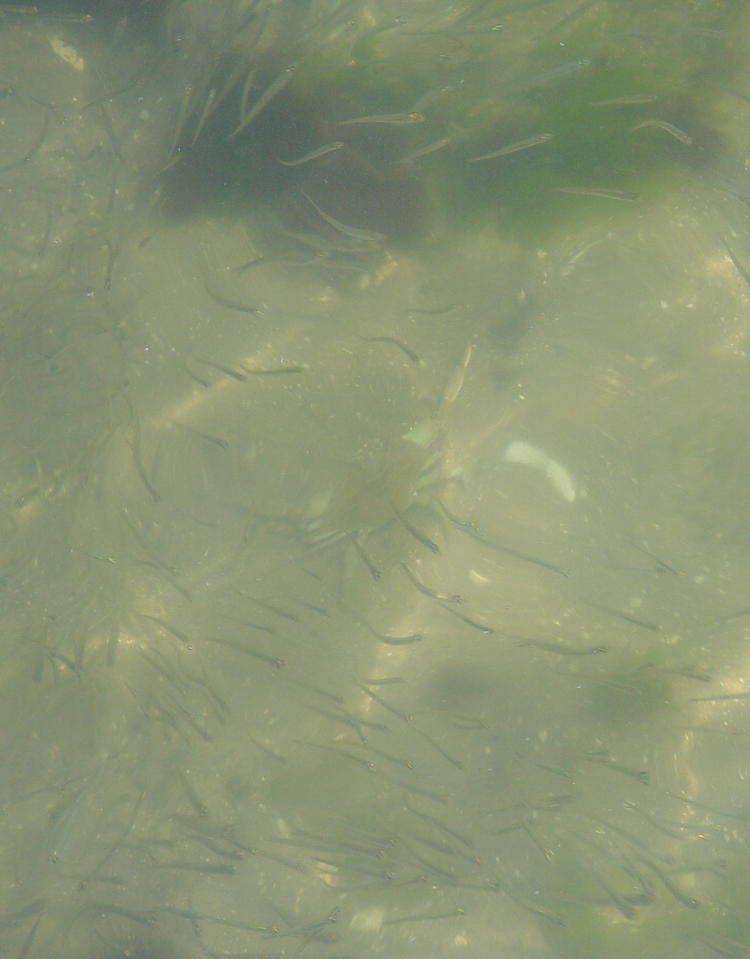 This week we're back to the Lakes/Streams/Waterfalls folders, about to be renamed Lakes/Streams/Waterfalls/Lagoons/Inland Sounds – okay, probably not, though for accuracy's sake it should, because this once again is from the Indian River Lagoon which is more technically a sound. As a thumbnail it doesn't do too well, and I tend to blow past it in the folder looking for items that catch my eye better, but when I looked at it close I suddenly remembered that fateful day fourteen years ago, and what was happening.
Well, not fateful for me, but likely fateful for somebody. For me it was just another day kicking around in Florida chasing those things that I generally only see in Florida. This is cropped a bit tighter than the original, which may draw more attention to the main subject now, but what I was after was not the minnows (anchovies, finger mullet, whatever,) but the guy on the bottom, waving his pincers desperately as the school wavered past overhead. That's an Atlantic blue crab (Callinectes sapidus) down there, and as I've said before they're the most aggressive crab species that I've encountered, always ready to put their pincers to good use rather than slinking away or seeking cover. And in this case, it was eagerly trying to catch one of those minnows as they temptingly passed just out of reach. This would, of course, have been much better on video, and the camera did have that capability, but I either didn't think of it in time (I'm by nature a still photographer,) or the behavior stopped once I'd switched modes.
Here's an enhanced version, boosting contrast to combat the reduction that the water caused, and tweaking the green tinge away towards more of a color that reflected the occupants than the water itself.