I was busy writing the 'On this date' post for this week, early this morning, when an app on my phone alerted me to lightning activity in the area. It's been doing this for the past couple of weeks, due to the weather conditions, and it's either been too far away to be worth pursuing, or late afternoon when lightning photography is not worth attempting. The one exception had been just after sunset when there was an active cell south of Jordan Lake, which might put in plain view with those nice low horizons along the lake, so I went down there. I was setting up the tripod and looking out over the water when I saw a nice simultaneous triple strike, right where I would be aiming the camera in, oh, about another thirty seconds. And they were the only visible bolts for the whole session.
But the strikes outlined in this particular storm looked promising, so I grabbed the camera and tripod and scooted over to the nearby pond, which provides a moderately decent horizon and foreground interest. And yes, there was definitely lightning activity to be seen, but mostly distant and hidden by clouds. Most frames held nothing, but the few that did featured a patch of purple clouds that were almost overwhelmed by the ambient light off of the low clouds, captured during the time exposures.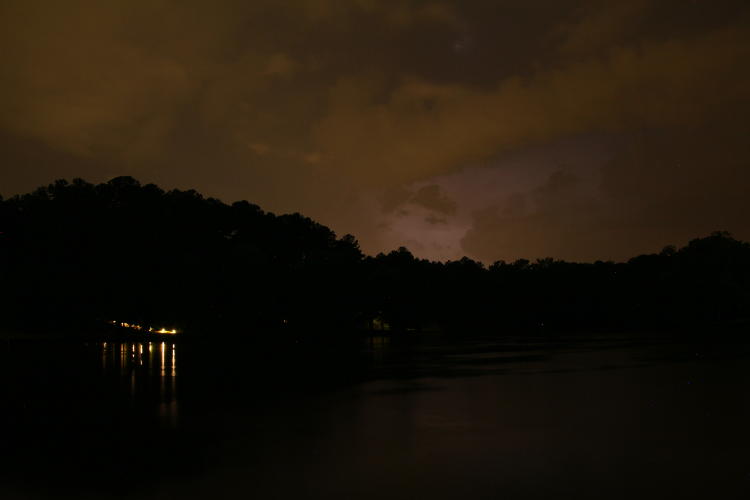 There was no particular cell that seemed the most active, and rapidly changing conditions, with a smattering of rain (I had the rain cover on the camera so I was fine, and didn't need one for myself.) I waited, because going in too soon is always a bad idea. So is going in too late, for that matter, but that can be my epitath.
And gradually, it looked like maybe things were developing a bit better, though still not all that great.

The sky would light up, sometimes brilliantly, but I wouldn't see any but the barest hint of an actual lightning bolt – they were still too distant, and did not seem to be moving into range. Which was not typical, because I'm aiming mostly west here and that's into the prevailing winds and storm travel.
But, patience.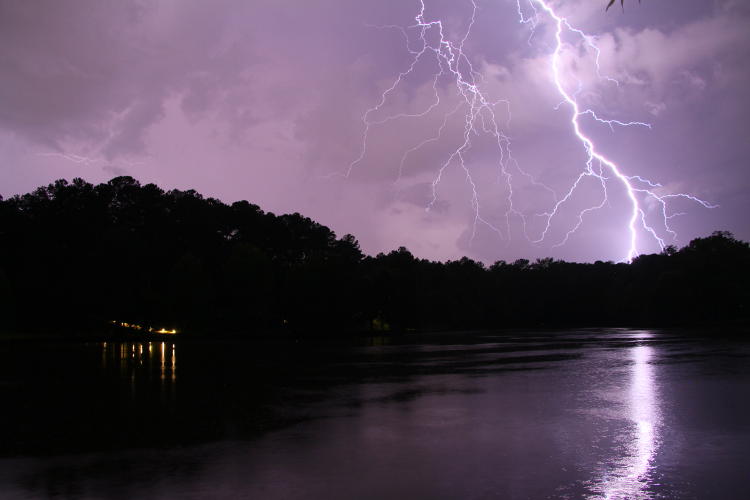 Ka-powser!
While still pretty distant (the thunder took ten seconds or so to arrive,) this was a lot closer than all the rest, stretching way up into the sky, with all those branches and even that long arm disappearing and reappearing off to the left. And seriously, it was the only one so visible. Looking at it now, I regret that I wasn't aiming vertically to capture more of it, but there was no indication that it would be so great.
I hung around for another 20 minutes, even capturing one that bleached the sky pure white in places, but never got any kind of distinct bolt again. Still, this one had occurred when I was thinking it might not be panning out at all, so I'm glad I was patient. I hadn't captured anything in a while, and I was due.