Well, okay, you'll probably have to be the judge of that…
A few days back, in the previous post, I mentioned that the rising moon the next day would be this itsy-bitsy little crescent, a mere 0.6% illuminated, preceding the sunrise by a little over 20 minutes. I also mentioned that the weather here wasn't amenable to pursuing it.
In the interim (within a day, really,) the moon became 'New,' meaning invisible, entirely backlit by the sun. But then, after that, it would be an itsy-bitsy little crescent again, only this time waxing and appearing just after sunset. And that would be happening Wednesday the 13th – yesterday's sunset. The skies had cleared almost perfectly by then, so I headed down to the lake to try my luck. It would be the slightest bit more illuminated this time, hitting 0.7%, but that's not a lot. For reference, this one a year ago was taken when it was 1.0% illuminated. I was curious to see just how fine I could capture this.
I arrived early and had a chance to poke around before sunset, though granted, there wasn't a lot to see. But I shot a version of a semi-frequent setting here on the blog with the sunset light and clear sky.

As sunset drew nigh, I got the tripod out and set up, almost exactly where we'd been a few weeks back for the Jupiter-Saturn conjunction; this is hardly surprising, since I was aiming in very much the same direction (and in fact, Jupiter became visible before I'd finished the session yesterday.) As the sun set, I used it as a rough aiming point, knowing that the moon would hit the horizon just south (left) of the same spot.

It would be a little over 20 minutes before the moon hit the horizon, and I knew that it wouldn't be visible until the sky darkened a bit more, but I kept an eye out anyway. A KLM jet on its way from Atlanta to Amsterdam passed way overhead, many kilometers distant, and I used it as a focusing point.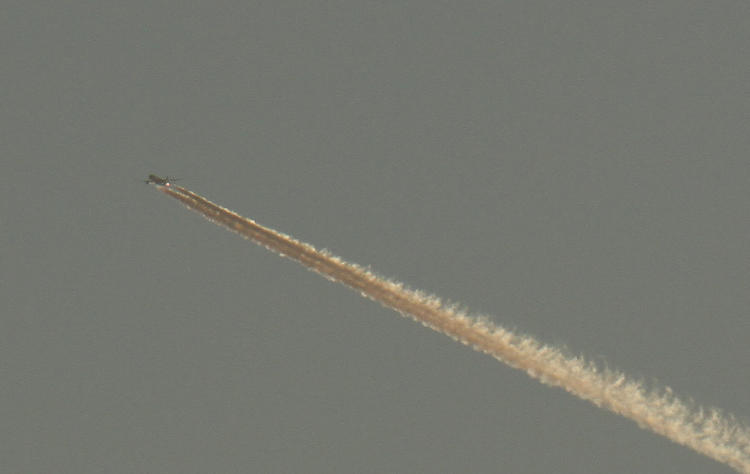 And as the time counted down to moonset, I scoured the skies looking for that minimal crescent. A smidgen of thin clouds were close to the area it should appear within, but not enough to obscure it, so I diligently tracked back and forth, up and down, with the Tamron 150-600 lens.
And saw… nothing. Not a damn thing. I shot several frames of the most likely areas, just to examine them once back home and see if I captured something anyway without realizing it. But nope.

Near as I could tell, from the timestamp and the careful comparison of angles with the sunset photo and Stellarium, this frame (with a circling Piper and a very distant contrail) should contain the moon. But even boosting the contrast off the scale in GIMP failed to produce even a hint of a crescent. Nertz anyway.
While there, I glanced out over the lake and spotted a lone floating waterfowl, too silhouetted to identify but looking like a loon to me. It disappeared underwater before I had a chance to refocus, but when it reappeared I shot a few frames as it flapped momentarily, turned surreal by the light angle on the water.

I could have saved this or the dead tree for the end of the month abstract, but using them now just puts a little pressure on me to shoot some more this month – I've had the camera out twice so far, but finding almost nothing of interest, so the most successful outing this year has been shooting an illustration for a book review. Sheesh.
As I mentioned, I was able to find Jupiter in those same skies, and this told me I was searching in the right location, because Jupiter was above and just slightly right of where the moon was. But even with this help, I got nothing, and my few shots of Jupiter were just a wee bit out of focus, so not worth showing here – all you would have seen would be a pale spot anyway.
The sky went indigo, and I switched back to a wider lens for a quick setting shot, leaving the long lens on the tripod for atmosphere.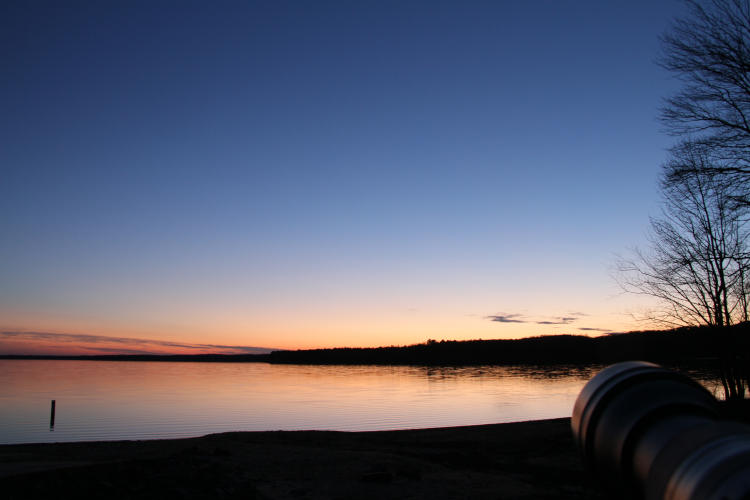 By the way, Jupiter really is in this frame, but with the wide angle lens, even at full resolution it's a mere speck, which didn't carry over into resizing to blog dimensions.
Anyway, I tried, and at least shot something, but not what I was after. I'm not sure the skies could have been much clearer, so I'm going to assume that not far below 1% illuminated is the point where atmospheric glow will overwhelm any chance of spotting a bare crescent. Maybe I should try for moonrise about eight hours from now, when it'll be 2.7% illuminated…