One year ago today, Russia invaded Ukraine in a phenomenally stupid attempt to re-absorb the territory as their own, so this seemed the best time to post this (given as how I forgot about this little featured aspect until just recently.) Like most of the country, I stand 100% behind Ukraine in this regard. Until the invasion, I knew Putin was a return to the totalitarian mindset maintained throughout the Soviet Union years, but the invasion certified him as a megalomaniac, and not a very bright one – no wonder Florida Man is on good terms with him (that would be Trump, but this is the last time you'll see that name here, because Florida Man fits him oh so much better.)
Anyway, around September I stumbled upon a model kit that I particularly liked, produced by an Ukrainian company and available nowhere else. The price was just a little steep but not too much so, and I was more than happy to place the order even with the warning that it might take some time to get here; frankly, I was glad to provide the funds and considered receiving the model, if it did indeed arrive, as a bonus.
It took just over a month, but arrived in good shape and appears to be quite a detailed kit – I have yet to start on it, but everything looks good ('AMP' is the company, if you're into kits, and they produce aircraft that no other company has.) But with it came a little pamphlet, the cover of which is seen at right – the remaining pages will fall below the fold so as not to fill up the main page of the blog, but go ahead and click. It's an absolute hoot.
[NOTE: I originally had a "read more" tag in here to prevent the entire content from appearing on the home page, but this isn't working and I don't have time to determine why right now, so here's the full post anyway.]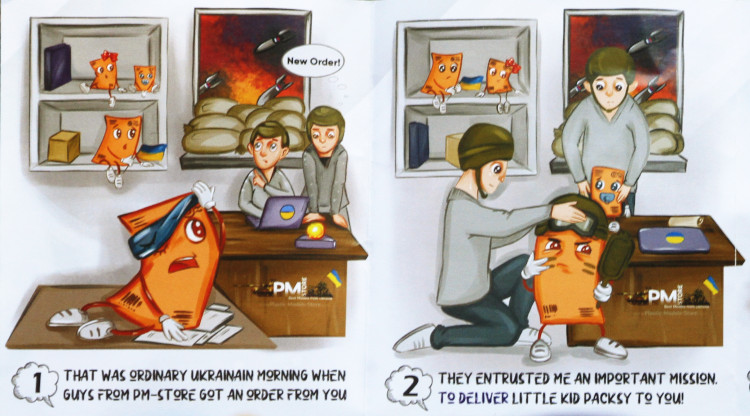 Now, a couple of things to draw attention to, in case they were missed. You'll note the depiction of the Russians in panel 4, and the infamous Russian tank being towed off by a Ukrainian farmer's tractor in panel 5. Panel 7 is a reproduction of a Ukraine postage stamp issued on April 12th of last year, commemorating the response of Ukraine guards on Snake Island at the start of hostilities. It depicts the Russian guided missile cruiser Mockвa ("Moskva," or, "Moscow") being 'saluted' by Ukraine; whether this actually happened or not, what did happen was that, on being hailed and told by Mockвa to surrender, a Ukrainian soldier on Snake Island (specifically one Roman Hrybov) responded over the radio with, "Russian warship, go fuck yourself." I decided that this quote needed to be featured for a while on the sidebar, and while I'm not retiring it now – it will go into regular rotation with the other, decidedly frivolous quotes – after today it will no longer be the sole quote featured.
Even better, the day after the issuing of the stamp, Ukraine forces sank the fucking Mockвa! The stamp (designed by Boris Groh – credit where it is due) was already approved and in production, so on subsequent stamp sheets, non-postable versions were included with the seal, "Mockвa DONE," visible in the lower corner of panel 7 in the pamphlet – it's not easy to make out in my photo of it, but the package is leaning against a button marked, "Bomb." Or you can see the actual stamps here, if you like.
Which is the second story. I was of course dying to obtain at least one of those stamps from the moment that I saw the approved version, but knew the demand would be high and the production probably wiped out immediately. While writing this post, I decided to do a quick check, which is how I found the link above, direct to Ukrposhta, the Ukrainian postal service. Not only can you order sheets of the stamps, they do international shipping. While I suspected the cost, converted to US currency, would be prohibitive, it's not in the slightest – you can convert it directly on the page by going to the upper left corner where "UA' and "UAH" are listed, and selecting instead, "EN" (English) and, "USD" (dollar dollar bills y'all.) Which means that sheet, as I type this, was a mere $4.50, the postage to the US less than $8.00! Yes, I ordered a stack, and included a donation to help the animals of Ukraine as well. Fuck yes.
In the face of Russia's brutal, unjustifiable attack, which has been targeting non-combatants and engaging in criminal and reprehensible acts, Ukrainian citizens and soldiers have been responding not just with resolve, but with competence, professionalism, and outright defiance. President Volodymyr Zelenskyy has displayed more statesmanship, leadership, and character than any US politician – really, all of them combined (which isn't saying a lot, admittedly – most of ours believe they're playing in sandboxes while overdue for a diaper change.) Here's hoping that, by this time next year, this idiotic war will be well over. Slava Ukraini!