Everyone has been in a frenzy here in NC over the approaching storm, which is supposed to deposit anywhere from 4 to 15 inches of snow on us, and it's off to its start now. I realize this isn't impressive by northern standards, and since I used to live in New York (the state) I'm not impressed either. But you also have to consider that no one knows what snow tires are around here, and there are virtually no snowplows, and power lines are hung by minimal standards (meaning, "not up to the weight of a coating of ice".) So, it might get a little interesting.
I actually look forward to this. Winter in NC is boring – the only evergreens we have around here are longneedle southern pines, which are ugly trees, pretty mangy looking and very drab. The rest of the area is dead grass and bare trees – essentially, grey. About the best that can be said is that the low humidity tends to keep the skies clear and blue, unlike New York, which typically gets socked in for several months of overcast skies. When a break does occur and you get clear skies, it's because there's a wicked front pushing in and it's generally colder than hell. I guess I should be happy that the winters aren't that cold here? Naaah, not really, because I've spent winters in Florida too, where winter jackets were needed only occasionally.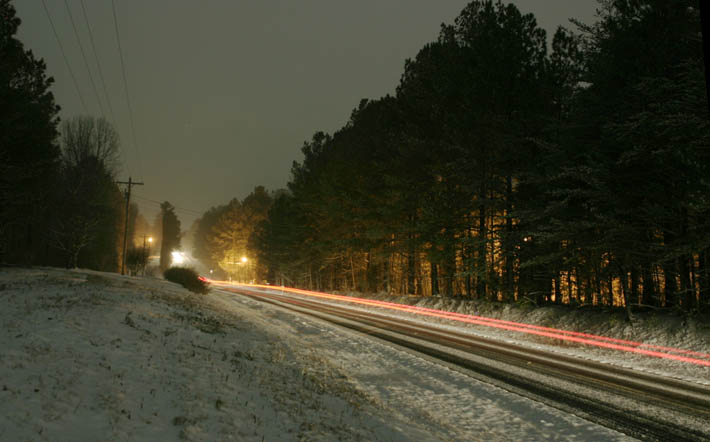 The snow was falling as I took these pics (less than an hour ago as I type this), though it's hard to tell because the long exposures that I needed for the night shots meant the snow moving through the air wasn't still enough to show up. At top, the background light comes from my neighbor's porch light, while the foreground branches are illuminated by an LED flashlight that I played across them during the exposure. The road shot above was simply ambient light, with some helping glow from the car headlights. I used a plastic bag over the camera to keep it dry, and listened to the hiss of the snow against the plastic. Facing in certain directions meant fumbling with the bag to ensure the light breeze didn't carry it away – one of those things about nature photography is how much even mild breezes can mess with your photo. Ever try to take a tight macro shot of an insect on top of a long plant? Effective sharp focus is measured in centimeters or even millimeters, and plants can sway a lot more than that. It's a common superstition that removing the macro lens from its pouch will cause the wind to kick up. Tonight, when I would normally have considered it very still and quiet, the bag told me otherwise as I had to keep wrapping it around the tripod knobs to keep it in place.
And even though it was full dark without bright lights shining towards the lens, I fixed the lenshood in place too, for good reason. It kept the snow from hitting the lens and putting water spots in my shots. Some idea of the usefulness of this can be seen here, where the lower lip of the hood collected a tiny snowdrift while I was shooting. A quick shot in the mirror once I came inside was necessary, reversed for the blog just so it wasn't too confusing.
So, stay tuned, and we'll see what kind of interesting landscapes are produced by the snowfall. Maybe if I'm really lucky, we'll get clear skies before the snow melts and I'll go for a star exposure over the snowfield.