Sometimes, things get a little too surreal. Probably about ten years ago or so, I was driving around Florida looking for good photo subjects, and out on Merritt Island. If you're not familiar with it, you should know that the middle portion of it is more popularly known as Cape Canaveral. North of the Cape, however, it's a nice wildlife refuge. But a mite damp.
Okay, it runs the line between "freaking swamp" and "flood plain," but it's still good to find animals within. However, some caution needs to be taken when choosing sandy lanes to turn down and explore. Some of them become, literally, one lane roads twisting through the middle of the swamp. No, seriously: one car width and the shoulders sloping directly down to the water. That white line in the photo above (courtesy of Google Earth – I wouldn't publish anything with color that wretched) is the road, flanked by a drainage channel on one side and open water on the other. Very exotic, but there's this issue if someone happens to be coming the other way…
Thankfully, this never happened, but I expected it to be a short drive before coming to, I don't know, a two-lane section, or someplace to pass and/or turn around, something wild and crazy like that. Nope – I must have gone over a kilometer before finding a spot where I could twelve-point turn to head back the way I came, then dreading someone else coming that way. It has to be the strangest road I've ever been on. I didn't have Google Earth then, or a map which showed this kind of detail, so I didn't know that if I kept going I would simply end up on the public access road through the wildlife refuge (though I probably would have come up against a locked gate and had to turn around anyway.)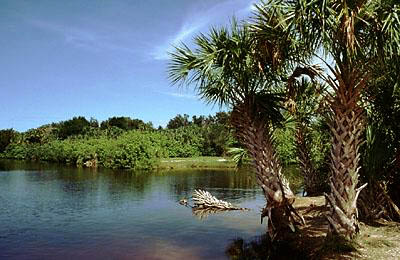 Want a look at this yourself? Enter "N 28.703366 W 80.725942" in Google Earth, Google Maps, Bing, whatever. That should take you right to the head of the road. When it eventually "T's" into another road, that's Blackpoint Wildlife Drive, the main observation road in Merritt Island National Wildlife Refuge. You might be saying something like, "Geez, Al, you were on a private access road, dumbass! Read the signs next time." And you know, I agree with you – except there were no signs, and a few years before, I'd turned off on the next road north, which took me back into a Boy Scout camp, fishing area, and a photogenic access point to the swamp (if you're following along at home, that's the one that ends in a loop.) Very neat area, just about like a private tropical island. With nature photography, it often pays to discover the little out-of-the-way places that don't seem popular, because not only are you likely to discover animals that haven't been scared off by too much activity, but the trash and land abuse tends to be much lower too.
Merritt Island National Wildlife Refuge is a great birding area, but this almost goes without saying – it's in Florida. It's also a good place to find alligators, wild pigs, and bobcats (the latter two I've seen but not caught on film yet), and a few kilometers north, there's a manatee viewing area on Old Haulover Canal where I've never failed to see them (that's the parking area on the northeast side, immediately alongside the bridge.) Other shots from this area can be found here, here, here, here, and, I think, the second and third photos here were taken at the overlook. Yeah, I like the area. But the roads could use some work.