First off, even if you don't like spiders, you really need to check out this video, an extremely well done collection of jumping spider behaviors. This comes courtesy of The Dragonfly Woman. Even though I'm embedding it here, I encourage you to go to the source for all of the details about it. While watching the clips of male-male interaction, I was reminded irresistibly of elementary school fights – they had much the same ratio of posturing to action…
I reached that website through another, Arizona Writer, who also provided another link. When I did the Amateur Naturalist series, I pointed out that, with insects (that's part one, and to be more accurate/pedantic/anal, it should have been arthropoda,) it was actually possible to discover either a new species or a new behavior. The details in the above video tell that some of the behavior seen within had not before been seen; this post tells how an amateur naturalist discovered a previously unknown species of jumping spider. The phylum of arthropods is huge, hundreds of thousands of different species, and their habitats are sometimes very limited, so yes, keep your eyes open. Bugguide.net can help a lot to identify what you have found, but some of the participants have been far snottier than necessary, so be warned.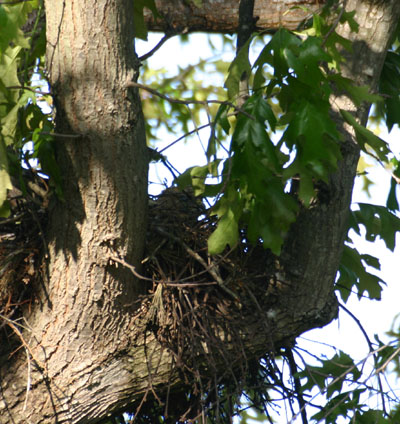 Meanwhile, I've been keeping an eye on the local Red-shouldered Hawks, but it's gotten more difficult. The female has built the nest up a little more so she's often obscured by twigs around the edge, and a few tiny branches right near the nest produced far too much foliage – most of my lines of sight are blocked, and the nest remains almost perpetually in shade. Yesterday evening, as the sun was low and the wind was blowing fiercely, I fired off a few dozen frames attempting to catch her when the leaves moved aside and the light broke through, but the light never reached her position – they knew what they were doing in choosing that location. The photo at left, while still a crop from a larger frame (the best I can achieve right now with the 170-500mm lens,) shows the conditions I'm attempting to thwart, while the image below is a full-resolution portion of the same frame; you can see the female's head turned to the right, beak slightly open. It's obvious I won't see any nice views of her feeding the young when they've hatched unless I manage to get up a nearby tree, but if I have my timing right I might catch the early fledging behavior and first flights. I have no climbing gear (and not even a ladder right now) so the idea of just getting up a tree for a better vantage is easier said than done, and I might simply find that my views from there are no better than on the ground (having to deal with the foliage of the tree I'd be within, as well.) We'll see what happens.