We're having great weather now, but so far the activity hasn't changed significantly among the wildlife, or at least not that I've seen – they may be playing it cool when I'm around, because I'm old enough now to be a square, a real wet blanket. So yesterday's circuit of the pond netted a handful of images, but nothing that really adds to the stock, you know?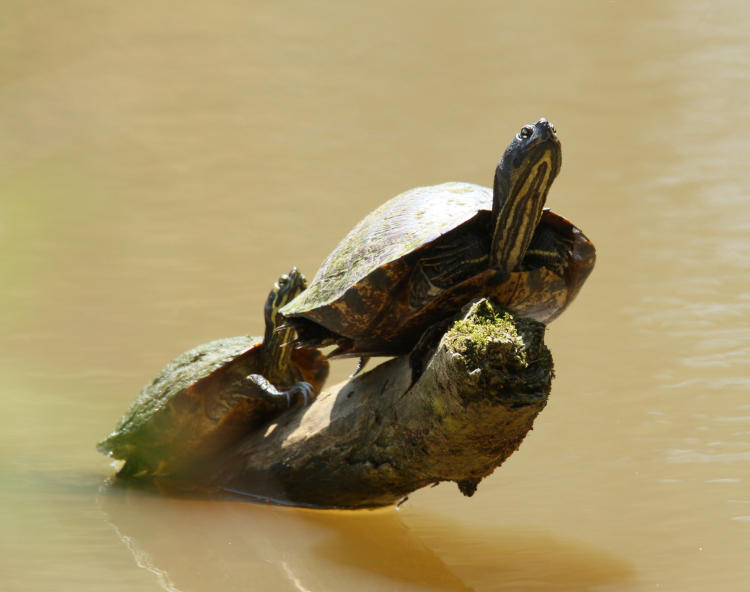 The turtles were out in force, and a little less spooky than normal, but I was approaching cautiously and peeking through gaps in the foliage, as you can detect the hints of from the green haze at lower left. The lead one here decided that she'd had quite enough sun on her legs, as opposed to the next one.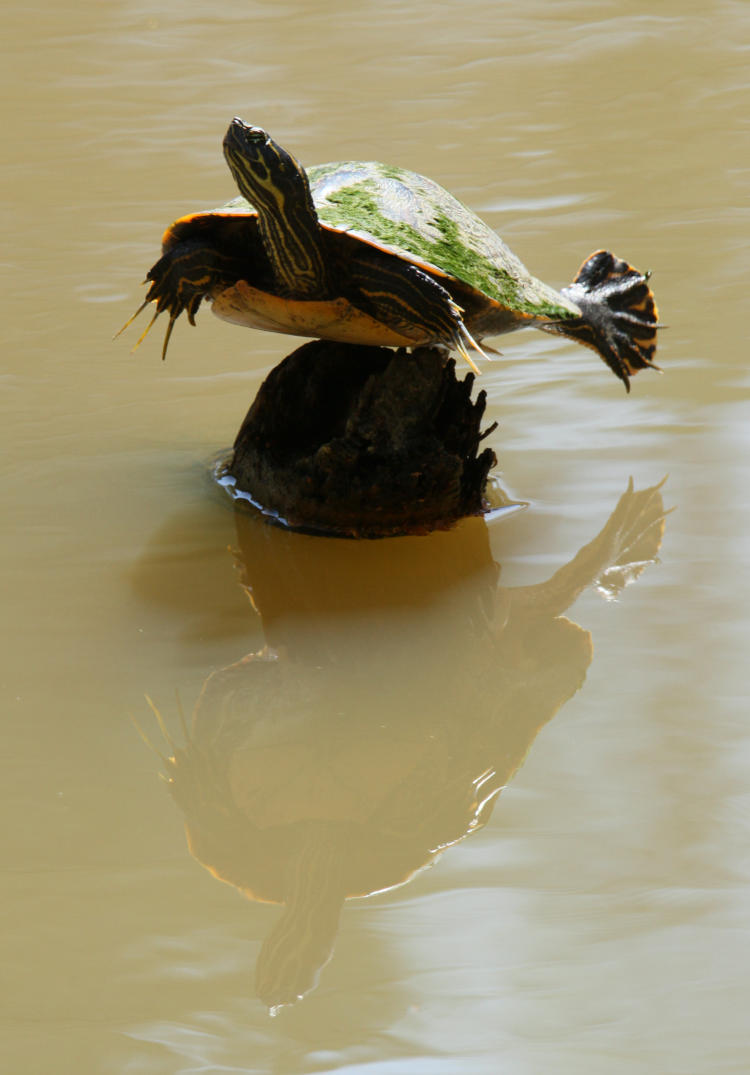 With restrictions being lifted, I'm guessing that this one had finally gotten her nails done and was hoping someone would notice – we are now in open-toed sandals weather. For a bit anyway, perhaps. And of course, the balancing act is none too subtle, so I'm pegging this one as a teenager. Either that or she's been there for a long time while the water's been receding; perhaps she's stuck. Nah, I'm going with being an attention hound.
And yes, I backed off the focal length a little to get that reflection in there. Here you were thinking this was accidental or something – you should know better.
Around the other side of the pond, we approached another basking turtle slowly, but needn't have bothered – it didn't budge a bit, and as we got around front, we discovered why.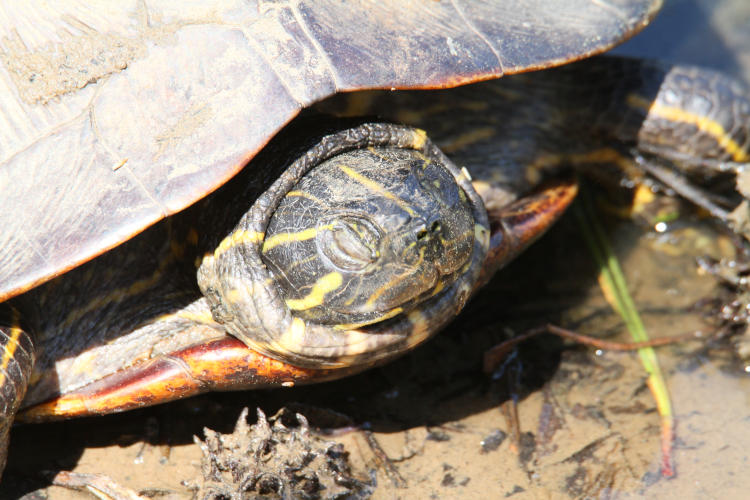 Not only did it appear to be completely blind, but from the size I'm reasonably sure this is the same one from last year, so he's doing okay for all that. He did eventually raise his head and begin listening to us carefully, trying to determine the threat level, but we left him alone at that point and moved on, so he could continue basking undisturbed.
And a handful of birds, of course.

Not far from a nest box, we saw a female eastern bluebird (Sialia sialis) cruise up to an obvious branch and sit patiently watching us, and I ended up having to creep closer to change the angle of the intervening twigs, which were sitting right in front of her eyes. No sign of the male, though I imagine he wasn't far away – it's that season, after all. For a bit anyway, perhaps.
A female double-crested cormorant (Phalacrocorax auritus) was hanging out in the usual spot, and I lined up for the fartsy shot with the pilings in the foreground.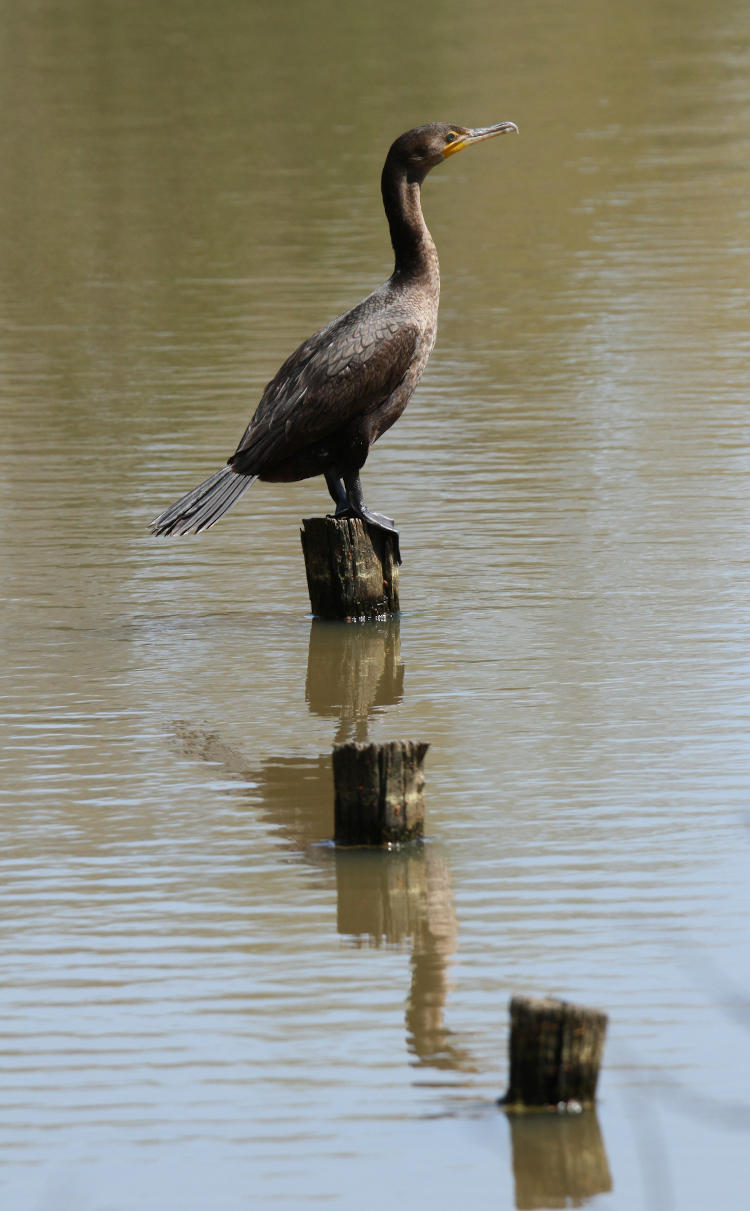 I managed to sneak in one frame before she offered her opinion of my skills and/or nature photographers in general:

Even as the moment had passed, the ripples and milky cloud remained, effectively ruining any further attempts at this composition, so there's no question in my mind that she knew exactly what she was doing. I mean, look at the eye contact.
[To be serious for a mere second, birds can often be seen defecating when they find danger threatening, presumably to reduce weight as much as possible should they need to take flight, but there may be other reasons, such as the vaguely repellent effect. As you're stalking birds you may see this fairly frequently.]
Back home, I was doing work in the front yard when I heard a sharp kip! from the immediate vicinity, and soon located the source in the neighbor's tree, where we both had a clear view of each other.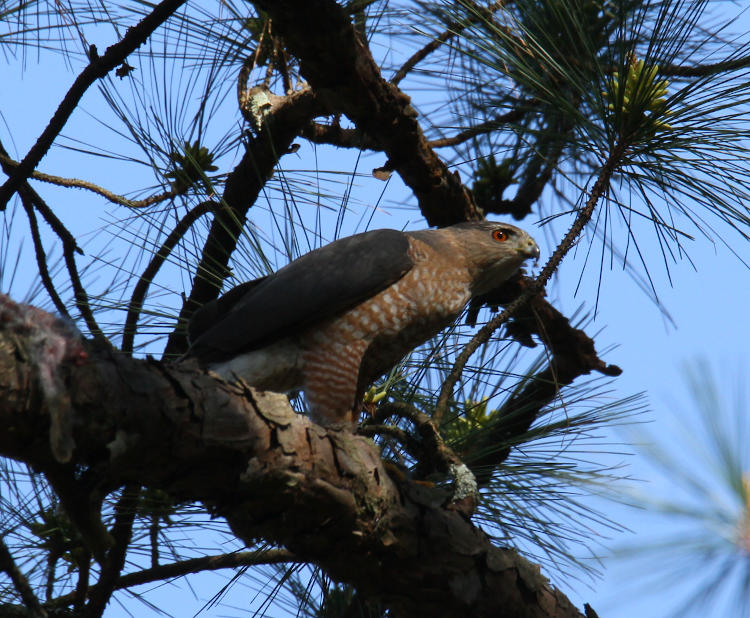 This is an accipiter, either a Cooper's hawk (Accipiter cooperii) or a sharp-shinned hawk (Accipiter striatus) – they're very similar in appearance, only slightly different in size, and have the same alarm call. The only decent way to tell them apart is from the tail in flight: Cooper's will have a rounded end to the tail feathers, while sharp-shinned will have a straight edge like a broom. Cooper's are slightly larger, but their sizes overlap (females of both species are larger than the males, and the female sharp-shinned may be the same size as the male Cooper's.) Since we had a brood of Cooper's raised in the immediate area last year, I'm favoring this being a returning member of that family, but I've also seen sharpshins in the exact same area and the neighbors have several bird feeders, which can attract the bird-eating accipiters, so it could go either way. In fact, let's see one of those photos from last year again.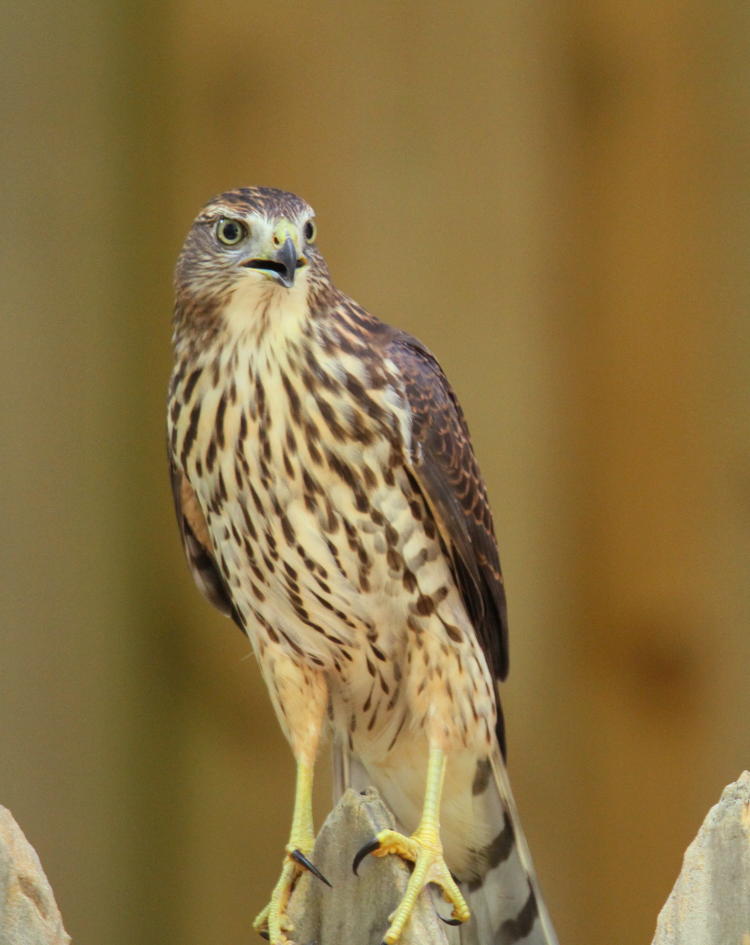 Looks drastically different, doesn't it? The eyes don't even match. But this is a typical change between the juvenile and the adults, for both species, so all bets are off, and as I said, I faintly favor the Cooper's at this point because they'll occasionally return to the same nesting location. I'm just pleased that a semi-secretive (well, except as new fledglings) and hard-to-spot hawk chose to attract my attention and wait around just long enough for me to get the long lens out. Not to mention being in such good light. I can live with it.