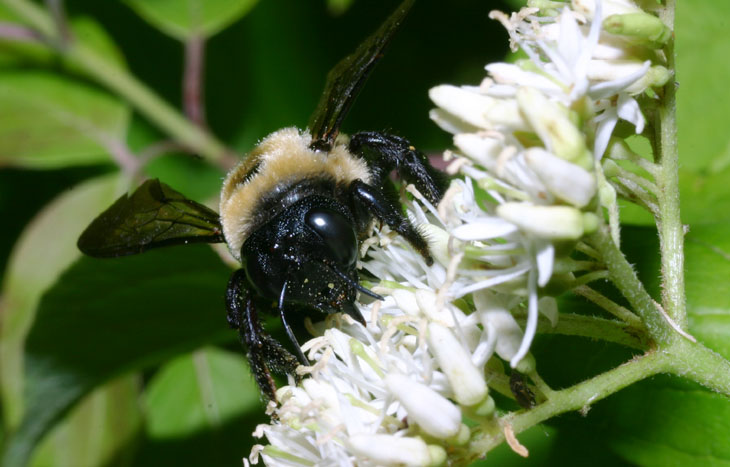 Just thought I'd throw up an image in recognition of National Pollinator Week, even though I don't know what qualifies as a national pollinator, except for perhaps an extremely busy bee.
Now, a word of advice: if you're just getting started in macro photography, don't pursue it if you have high blood pressure, anger management issues, or take offense at inanimate objects that nevertheless keep moving. Side effects may include swearing at insects and losing hair in clumps. See your doctor to find out if macro photography is right for you. Attempting to get images like the one above may mean a lot of missed tries, because of the short range of sharp focus, the constant motion of most pollinating insects, and the previously unnoticed breeze throwing the flowers about. Set focus, anticipate the shot, and trip the shutter just before your subject drops into focus. And remember, press the shutter, don't jam it or squeeze it – don't induce camera shake. It's highly recommended that you use the fastest shutter speed you can achieve while still maintaining flash synchronization (I'll talk about that more in a later post.)
Even with all that, expect to toss a lot of images. But don't let your frustration blind you to choosing a good angle and background, and be flexible. I can honestly say that, for every time I chose a flower and waited patiently for an insect or hummingbird to fly into my prepared frame, it has never, ever been successful. Better to have lots of options and be able to reframe as needed.
Ah, what the hell, have another. It's worth noting that neither of these was taken this week, or even close. We've passed peak season for most flowering plants here – we are now in wilt-and-burst-into-flames season. Happy summer!