When The Girlfriend purchased this house a little over a year ago, it was of course necessary to begin personalizing it, which is one of those things that goes slowly and I don't think ever really gets 'finished.' This means that I often have several projects on hand, either planned or in progress, and sometimes they're not always known to her until they're completed.
The house has a decent-sized screened back porch, and almost immediately, we affixed a string of holiday lights along the ceiling edge – I had discovered long ago that multi-colored dim lights are actually very relaxing, and so this provided mood lighting for this space, and we often eat meals out there. After a period of time, The Girlfriend obtained a nice outdoor glass-topped table to replace the small, basic one that we had placed there initially, the only one we had to spare when we moved in. The textured glass gave me an idea, so while she and her daughter were away for another surgery, I arranged a second set of holiday lights under the textured glass surface to surprise them when they returned. I ended up with a lot of the string left over, so I poked it up through the hole in the center of the table (intended for an umbrella) and stuffed it into a mason jar, creating a simple lighted centerpiece.
This went over very well, and even increased the amount of times we ate out there, but The Girlfriend noticed one night that the mason jar could build up quite a lot of heat if the lights were left on for a while, and I figured we needed something ventilated. Brainstorming occurred. Shortly, I located what I was looking for on eBay and ordered it, for far less than I imagined I would have to pay.
What I found was a vintage barn or railroad lantern, and it arrived in "as found" condition, complete with old spider egg sacs (barely visible to the lower right of the chimney.) It took a while to clean up, and the kerosene had stained the enamel around the base, but I figured that just added to the rustic charm. Despite the grime, it was in good enough condition that I could have filled it and lighted it immediately, and I debated about cleaning it up and reselling it, but I liked the look of it too much. Once cleaned, I removed the wick assembly and drilled a large hole in the bottom of the kerosene tank, then fed the lights up through the bottom and clustered them within the glass chimney. From discussion to result was less than two weeks, and from arrival to display less than two hours.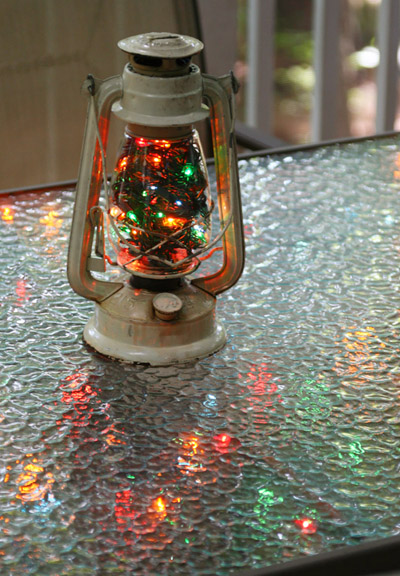 It looks quite nice in place, and my only regret is that it is not self-contained and running from batteries, with that fill-spout serving as the power switch. Even during the day, it produces a nice effect, but at night it really comes into its own. I know there are some people that think multi-colored lights are garish or old-fashioned; good for them. We're pleased with the ensemble, and that's the only criteria we need.
So when I'm not posting as often, occasionally it's because I'm chasing some other projects – this is just one that I decided to show off. The starbursts in the image below, by the way, are courtesy of a small aperture, in this case f22. It's a simple trick.
[And if you're surprised that nothing "buggy" is evident on this porch, well, let's be realistic: the photography is a pursuit, not a lifestyle, and doesn't have to be present everywhere. But the metal ants seen earlier are actually out of sight on the porch railing to the right ;-) ]