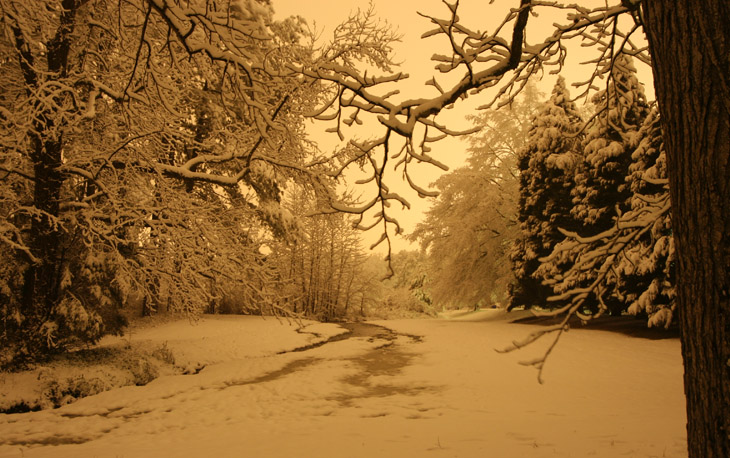 I've mentioned far too many times that it's the slow season, but now, I've finally done something about it! And that something is, telling you what you can do about it. This fulfills my personal obligations and alleviates my guilt, so I don't even have to follow any of my own advice imparted aurally, just below:
Walkabout podcast – What to do in the winter

And a few other links to expand on topics touched therein:
Cold weather tips, for when you do actually get out to do some shooting.
Using weather as a compositional element might help too.
Tackling black & white photography when the conditions support it? Then the posts on monochrome and contrast may offer some assistance. And while I'm at it, this one on mood & metaphor might contribute too.
Oh, and a post on cleaning lenses.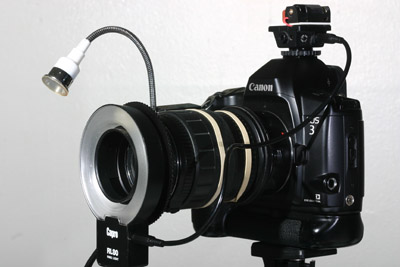 Projects? Here's one example, and another – you'll have to gauge your own shooting needs and what will work for you.
The image to the right, by the way, is evidence of three separate projects: an adapter to make a ringflash work with a reversed lens, a voltage reducer to keep the flash power from frying the sensitive camera circuitry, and a focusing light for macro subjects.
I mentioned planning trips, and here's one that anyone might be interested in, the total solar eclipse this August. You know what I said about contingencies? Good – if you are planning to get this, have a couple of other topics or things to visit during the trip, in case the clouds prevent you from capturing your primary objective.
Ever wanted to mount a webcam in a birdhouse or above a nest? Do it now, before nesting season starts.
And here's a project that I've just reminded myself of, good for not just the insect photographer in all of us, but garden and flower and even bird images: purchase the seeds that you need for the right kinds of flowers and plants and start them off indoors, getting that head start on spring weather. Perhaps you might want to order some mantis egg cases as well.
Hope this helps! Good luck!