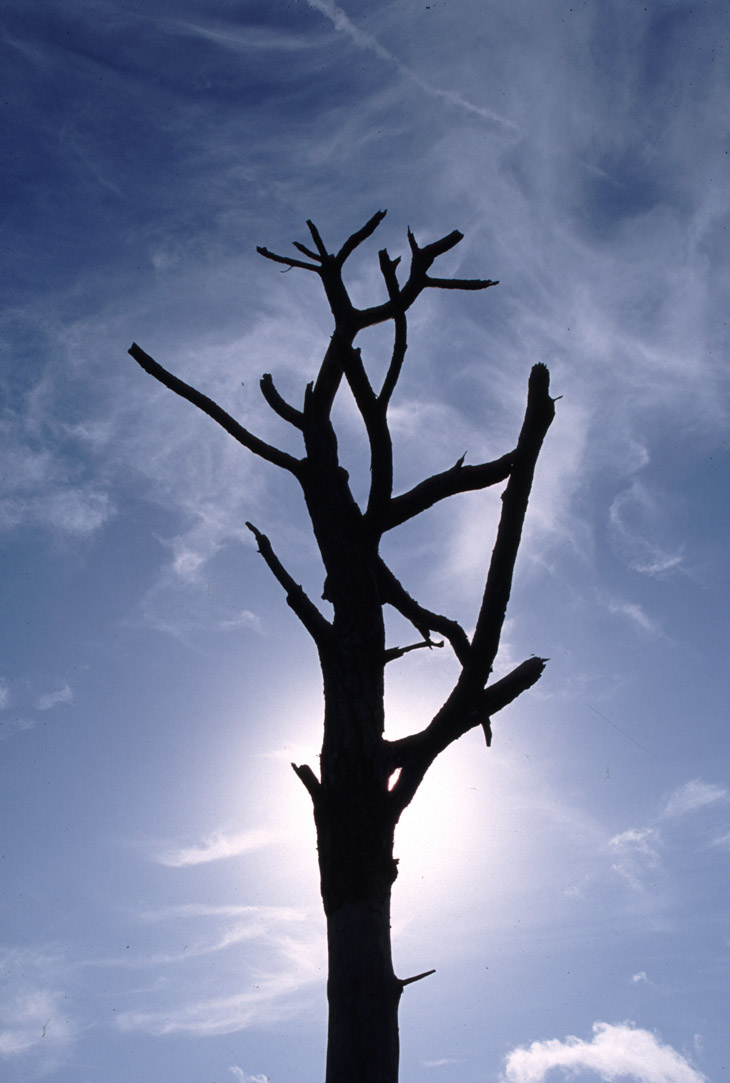 This has me conflicted, in multiple ways.
First off, right from the beginning I always felt this could be stronger, but somehow I keep coming back to it, so I guess there's something visually compelling that is overriding my conscious thoughts on the composition. I mean, I like the effect, produced by placing the bright sun directly behind the trunk, but the shape of the tree isn't quite as aesthetic as I would have liked, and that one plane contrail really doesn't need to be there. Yet I still get this hand-painted feel from it, like someone was dragging the last of the paint from their brushes, or a chalkboard (ask your grandparents what that was) that someone inadequately washed. It's almost as if someone tried to provide a surrealistic impression of the wind in the branches, but not quite – and yes, I did position myself to get the clouds right there.
Now here's the other conflict: I can't remember where this was. This is kind of a big thing for me, because I can remember shooting locations far too well, often to the point of driving right back to them years later, or finding them almost immediately on a map. It's a stupid accomplishment, because I'm absolute shit at remembering faces and names – I mean, seriously. My memory matched the date stamp on the slide; August 2002, very soon after moving to Florida, and I know this was in some small nature preserve not too far away from where I lived, from one of my short expeditions to find shooting locations. I'd only been once, because there really wasn't much to see there, but now I'm stumped (heh!) as to exactly where it was – I have no recollection of ever passing it again.
There is a vague suspicion that this is Turkey Creek Sanctuary in Palm Bay – the name sounds vaguely familiar, and the location is close enough to fit the impressions that I retain, but that's the best I can say. And I'm worrying about it too much, but that's how I get – I take it as a challenge to find some of these shooting locales from my past. But now there's an additional bit of irritation that came up as I was trying to pin it down, since I discovered what might have been an excellent place to visit, now that I've been out of the state for over a decade. Viera Wetlands was only about a fifteen-minute drive from where I lived, just a few kilometers straight down the road from Brevard Zoo, and I knew nothing whatsoever about it – never found it online, nobody ever mentioned it to me, my nature photographer's radar never guided me there, zilch nada bupkiss. I mean, I'd done multiple trips up to Merritt Island Refuge while living there, and never knew about this one many times closer. Gosh darn it.