I'm not quite going to make a post for each day of October with this, though it comes close, plus I still have plenty of photos to unload, but I'll set a record for the year of uploaded images. Makes up for September being so slow at least. So let's take a look at the autumn colors captured so far, with the idea that I may still have some more soon.
Above, the American sweetgum (Liquidambar styraciflua) is one of the better native performers in the fall color department – most of the other colorful species that I've seen have been landscaped trees, not appearing in any natural settings. This was at the edge of Jordan Lake and not too far along in color advancement, but it's when I had the chance to capture it.
The other morning it was foggy, and I ventured down to Mason Farm Biological Reserve because that's the best place within an easy drive to use such conditions, but the fog was weak and mostly just looking overcast by the time I got down there. Nonetheless, I did a comparison shot of a previous fog subject while there.

In doing this, I discovered that this tree was actually a persimmon, having caught it retaining fruit while the leaves had all been shed – most likely an American persimmon (Diospyros virginiana) but I wasn't close enough to confirm any details. I do know that the mammals in the area scarf down the fruit as soon as it drops, and even found what was likely coyote scat laden with persimmon seeds on the trail.
Strangely missing were the spiderwebs; normally such conditions reveal hundreds of webs everywhere, but they were quite sparse this time, and I can't imagine why, but it greatly reduced my opportunities for mist shots. I settled for a bursting milkweed pod instead.

There are a lot of varieties of milkweed and I couldn't begin to pin this one down, so settle for genus Asclepias. Plus some unidentified ladder-like pods on a clinging vine. I only got a bare hint of the mist on this and other attempts just weren't sharp, partially due to slow shutter speeds from the low light, partially due to leaving the damn macro lens sitting on my desk the night before – dumbass. But I'll point out a little something while I'm here.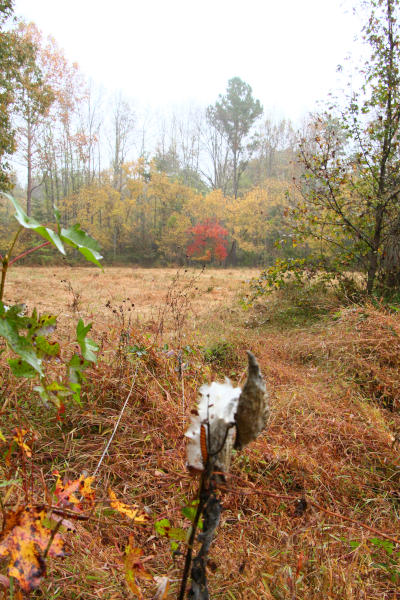 There was really only one tree showing decent color in the background, so I chose a shooting angle and position to enhance this in the frame as much as possible. Changing focal length can alter the rendition of background elements as well, so that gives two quick lessons: watch the background to see what can make things look better, and play around with the zoom to make the most of relative sizes and depth-of-field. For the record, the pic above was at 85mm while the one at right was at 22mm, both at f8.
I wandered closer to that very tree as well, probably the best display visible for that day and location – we're still slightly before 'peak' colors, but that's a misleading concept.


Trees tend to turn colors and shed their leaves on wildly varied schedules, so the goal is to catch as many species as possible close to their best colors, but what usually happens is, some are bright, some are not there yet, and some (like the persimmon) have already dropped all their leaves. I have yet to see a nice landscape with most of the trees looking ideal, and usually spend my time being selective about what you can see and what you can't. None of these are blowing me away, but I'm hoping to improve this within the next week or so.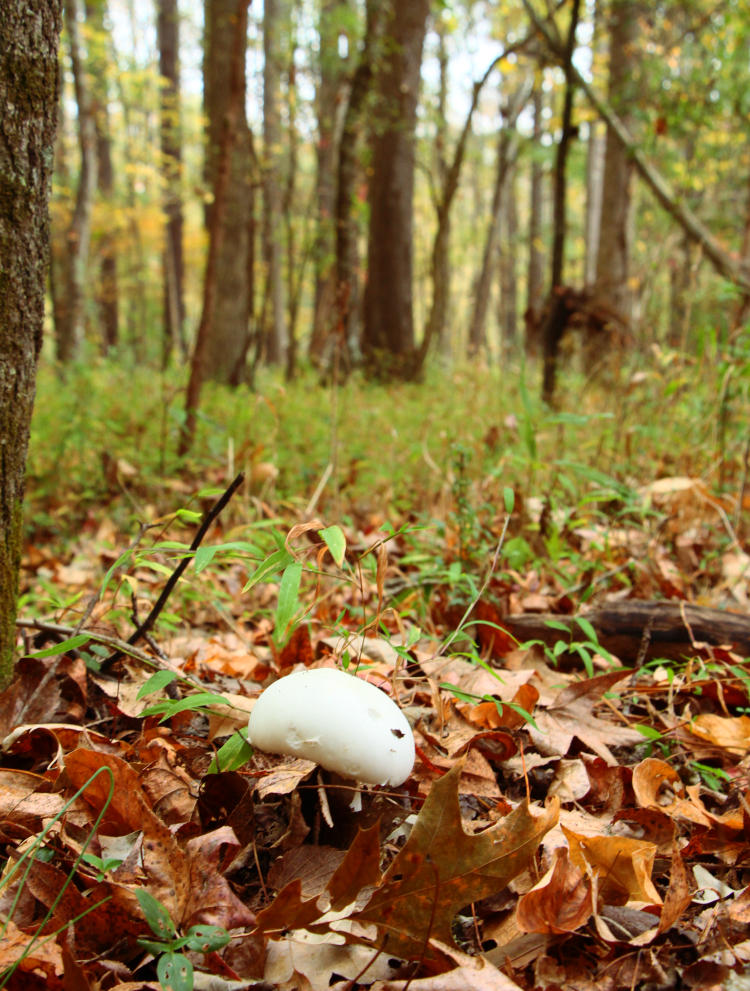 Not really any autumn color here, but I spotted the mushroom a bit off the path and wandered over to use it. Again, no macro lens, prompting the wider view instead because it was a nice stand of straight trunks for the background, with only one anarchist in there, which happens more than I'd prefer – groups of nice uniform trees are rare.
Coming back home, I got a few brighter examples, but these are almost always good at this time of year.

Many years back I'd seen the autumn colors of the oak-leaf hydrangea (Hydrangea quercifolia) and knew we needed them in the yard, and we haven't regretted it since – they do well in the open shade, possess giant leaves, hold their dead flowers for close to a year, produce great displays in the autumn, and the critters love them. Of course, they look even better when wet. Just so you know, that foreground leaf is the size of a dinner plate. And if you look close, you can see that the colors are affected by the amount of sunlight they get: the second-largest leaf is still greenish where it was shaded by those above, with an even brighter green patch on the smaller leaf above and to the left of it – this bears a decently sharp outline of the leaf edge above it.

Many of the Carolina anole pics from the past few months have shown these flowers, since the anoles love them as nighttime perches, or did until the first serious cold snap – I haven't seen the juveniles since then, though the adults redoubled their appearances afterward, don't ask me how this works. I think those flowers bloomed back in May.
However, a few days after these pics, I found two other common subjects, one on the very same plant.

This is a Copes grey treefrog (now Dryophytes chrysoscelis,) and I was unable to get the millimeter scale in the shot, spooking the frog off while trying, but that leaf is not the size of a dinner plate – more like my palm, and the frog is only on the tip. It had been sitting complacently in the center of the leaf, as they usually do during the day, but in the interval between initial spotting and returning with the macro rig, it had started to rain and this apparently provoked some action from the frog – it was alert enough not to brook the shenanigans of setting a tiny slip of paper alongside. 'A little bigger than your thumbnail' is close enough, anyway.
The same response from the rain was witnessed from the next one, too: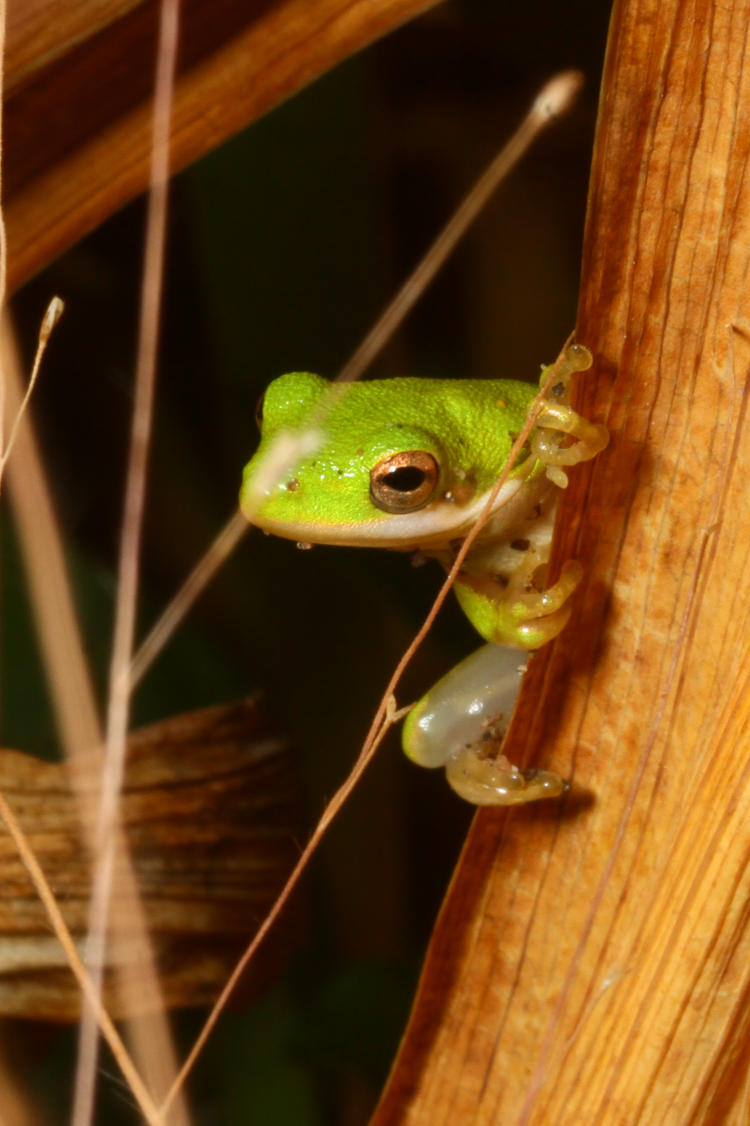 This green treefrog (Dryophytes cinereus) wasn't on the hydrangea, but the blackberry lilies (Iris domestica) immediately alongside, and was just as tiny as the grey – both likely hatched from the backyard pond only a few weeks ago. I fired off this frame for 'safety' before I reached in to move the intervening weed, and I'm glad I did, because the frog shifted position and tried to hide as my hand drew close.
But there are some token autumn colors, at least, with a couple of bonus frogs. We'll see what more can be dredged up shortly.