Mostly because I've seen later.
Yesterday morning, when I went out after two solid days of rain courtesy of Hurricane AK924601 (or whatever it was named,) I found something I was beginning to suspect was gone for the season. I'll start with giving you the big picture, which was roughly my view as I was standing there.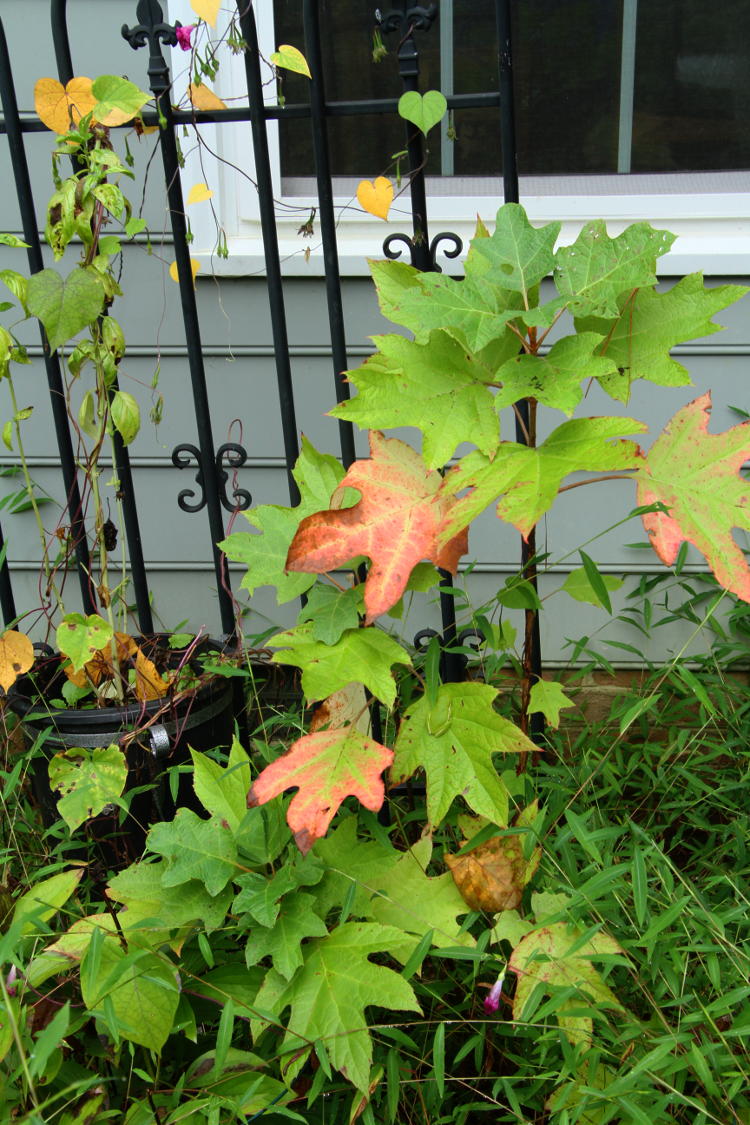 See it? [I'm never sure how easy it is for others to see, so we'll continue the game.] Let's go a little closer.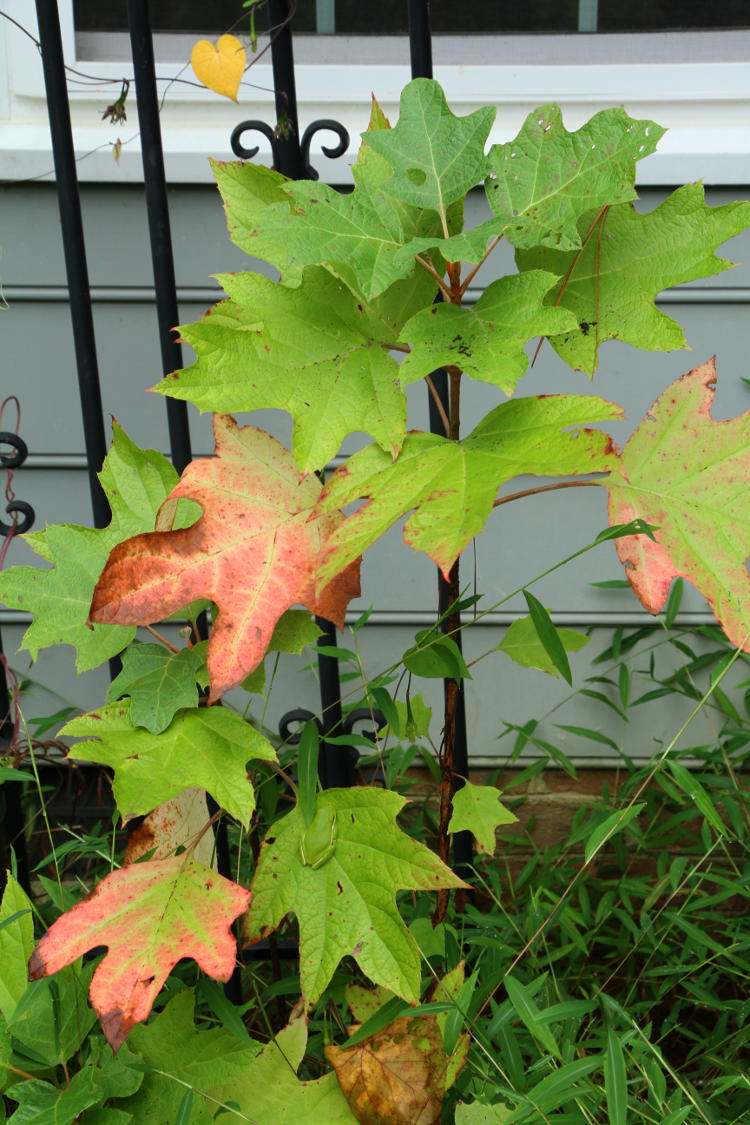 How about now?
We're going still closer, whether you need it or not.

Surely you see it now – if not, there's no hope for you. But I was impressed at how well it blended, especially without brighter light to throw shadows, and if it hadn't been for the white stripe, it would have taken me even longer. Which, mind you, would still have been less than a minute, because mad skillz.
Yes, there's been no shortage of green treefrog (Hyla cinerea) photos on the blog this year, but you can never have too many, is what I say in defiance of all evidence. This is an adult – I haven't seen any young'uns recently, but I noticed only a few minutes ago that there's at least one tadpole in the backyard pond, which was way unexpected, and don't ask me the species because I don't know. The weather has only gotten a little crisp at nights, nothing serious, so there's little reason not to keep seeing them, but the numbers have dwindled, which may only mean that they've moved on to someplace where no one keeps sticking a camera in their face.

Meanwhile, with little else to chase in such grey and damp conditions, I did a variety of approaches.

If I'd done this one first, you might have gotten the impression that the frog was endeavoring to hide from me, instead of merely sitting complacently and waiting for the night. I'd switched to the Mamiya 80mm macro for this, for the short depth-of-field that it could render, and really, trashed too many frames because I wasn't at perfect focus distance (holding still and aiming down in a semi-crouch while standing in one of the few safe places in the front garden means enough wobbling to shift out of the minuscule focus range very easily, so I fix the camera focus and move myself and the camera until things are sharp, trying to trip the shutter before I wobble out again. It doesn't always work.)
How about the other side?

Now we got the stalker vibe going, and believe me, there's nothing more ominous than looking up and suddenly finding a green treefrog sizing you up through the foliage. Pure shivers.
But since I had the camera in hand, I did a few other frames for giggles.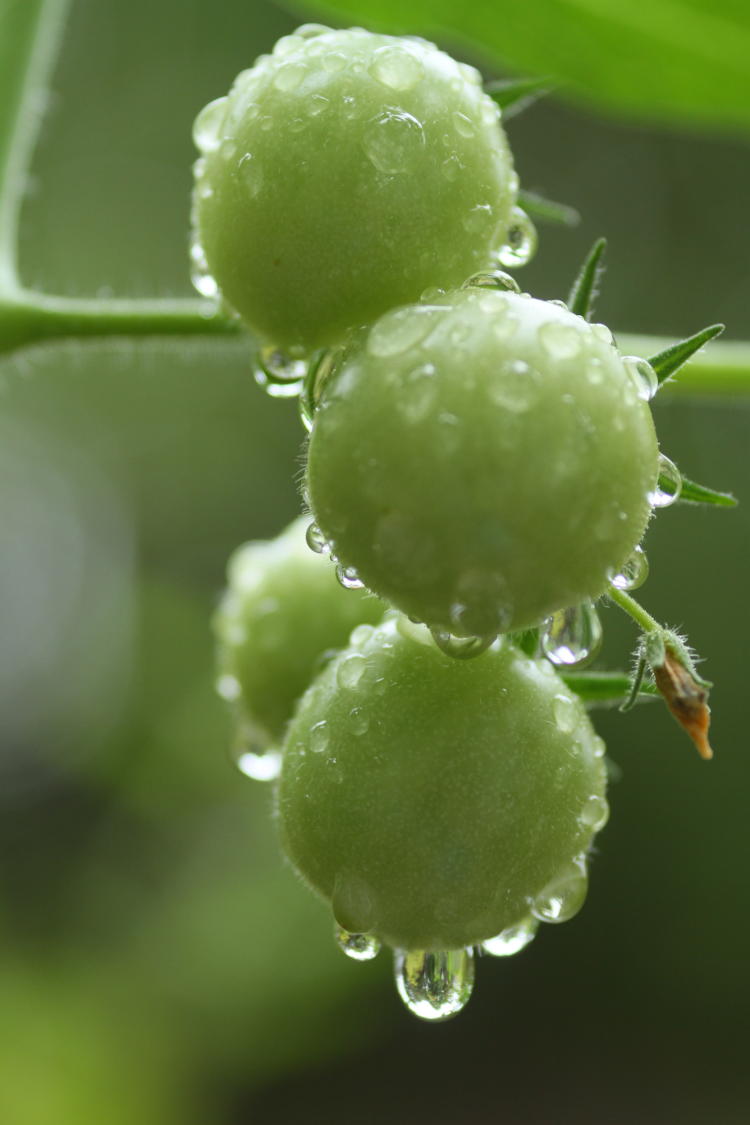 The rain had stopped hours earlier, before sunrise, but with no wind and no sun, it remained on our cherry tomatoes (planted late, so running late) and I desperately needed a shot like this to add to my stock. I tried to use the drops as lenses to show the background, but really, in the grey light and with nothing but greenery back there, it wasn't worth the effort. That's the kind of stuff you try in a blooming garden, or at least with blue skies.
And as late as they are, they're still blooming too.

Again, short focus, pinned on the drop. The clouds were thin enough to brighten the halos around the leaves and stems, but that was all, and it remained that way until late this morning. Might mean some good fall colors a little later on though, since they rely on a certain amount of rainfall to get vivid. We'll just have to see.
Okay, now, where were we? Ah, yes, more at Mason Farm coming up.