This is just an initial experiment, which admittedly came up promising, but I'm aiming for better.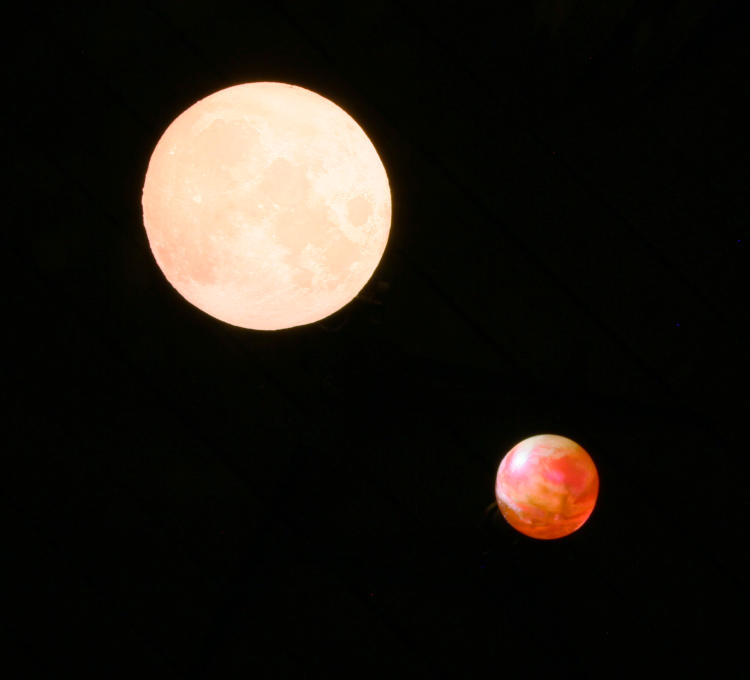 The beginnings of the idea have been kicking around in my head for ages, but then this variation came up just a few days ago, and I finally got the chance to pursue it. There's been some faint color tweaking done to this frame, but otherwise it's unaltered.
The most realistic-looking aspect, isn't. The moon is actually one of those decorative self-illuminated orbs, about 18cm across, that I've had hanging over my desk at Walkabout Studios for a few years – they're pretty cool, really. Its companion is – no, go ahead, guess. I'll wait.
.
.
… Dum de dum de dum…
.
.
Give up? Or did you guess that it's a superball? Which is correct – it's semi-transparent, which made it perfect for this, and illuminated by a flashlight held just outside the frame. I did some others, with the light source actually underneath the superball and both bodies closer, but this one wins the post position. Both objects are perched atop light stands on our back deck, with me shooting straight down on them from the upper landing so the lightstands are hidden behind them from this perspective, but it was also done at night with no other lighting so they sat in darkness anyway. The superball is actually significantly closer to the camera, shooting at f22 for a high depth-of-field, but I'm going to try others with them closer to the same distance, which will make the 'gas giant' seem much further away.
I used the interior illumination of the moon ornament for these, but it's a curious color register from the LEDs used and certain wavelengths of color seem absent, which makes tweaking the Curves kinda tricky. I could always try exterior illumination, possibly even doing moon phases, but it would have to be bright light and anyway wouldn't work with this particular ornament, which is designed to look proper with its interior lighting and so the surface features aren't true to the moon: to make the darker mares, the material has to be thicker and thus they aren't smoother and flatter like the real satellite. However, I could probably print an accurate one…
We'll see what pops up here later on. Aren't you excited?