So, yeah, I'm finally getting around to posting about a photo trip taken, oh, eleven days ago – if I keep blowing deadlines like this they're gonna stop paying me. And as a mixed blessing, this will be a multi-part affair, while also being at least partially in podcast form – I'll let you decide which aspects of that are good and bad. Should you be planning your own trip to the Outer Banks, this and the following podcast may be of some use to you, and if you're not, well, perhaps they'll be entertaining anyway. At least we can both hope.
As you listen along, you can refer to the images and Google Earth Placemarks provided to get a visual reinforcement. Sorry, as yet I have no way of providing scents to go along with it, even when I go to great lengths to describe some in the audio. Don't blame me – HTML is still lagging behind on that end.
Walkabout podcast – You guessed correctly

Both of these views, despite their glaring dissimilarity, are from Creef's Cut, in the Alligator River National Wildlife Refuge just off of NC 64, a little inland from the Outer Banks – see the Google Earth placemark here (clicking on it should open up Google Earth if you have it installed on your computer, and if you don't, why not?) It's also not hard to find this area on a map service of your choice – look just west of where NC 64 and NC 264 meet on the coast.
I have heard a few times that alligators can indeed be seen in North Carolina, and there was even an information plaque stating so right in the refuge, but I've never seen one so I don't believe it myself. I have seen a black bear, at such a distance that the only shot I got was a 'proof' pic and nothing more, and the area is a red wolf habitat as well. If you're looking for such subjects, very early morning at first light is the best I can recommend. The region probably looks fantastic in foggy conditions, as well. If you're staying on Roanoke Island, you can get back here within an hour.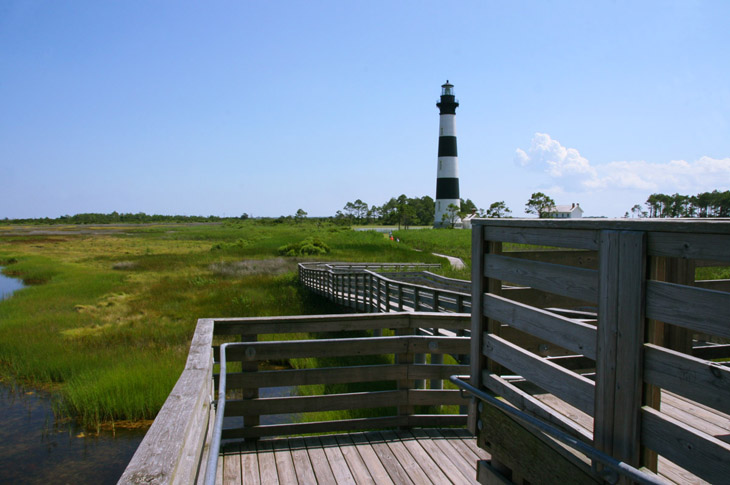 Being there at a busy time for tourists, I didn't attempt any full-length or establishing shots of the Bodie Island lighthouse, even though the area makes it fairly easy to do this – just didn't want all those people in my images. Instead, I chose a few different angles that hid unwanted elements (like the full parking lot, easily visible from this shooting angle) and still tried to be fartsy – I'll let you decide if I succeeded or not. I've done a lot of shooting around Bodie Island light, including here and here, and there's a placemark attached to that first link.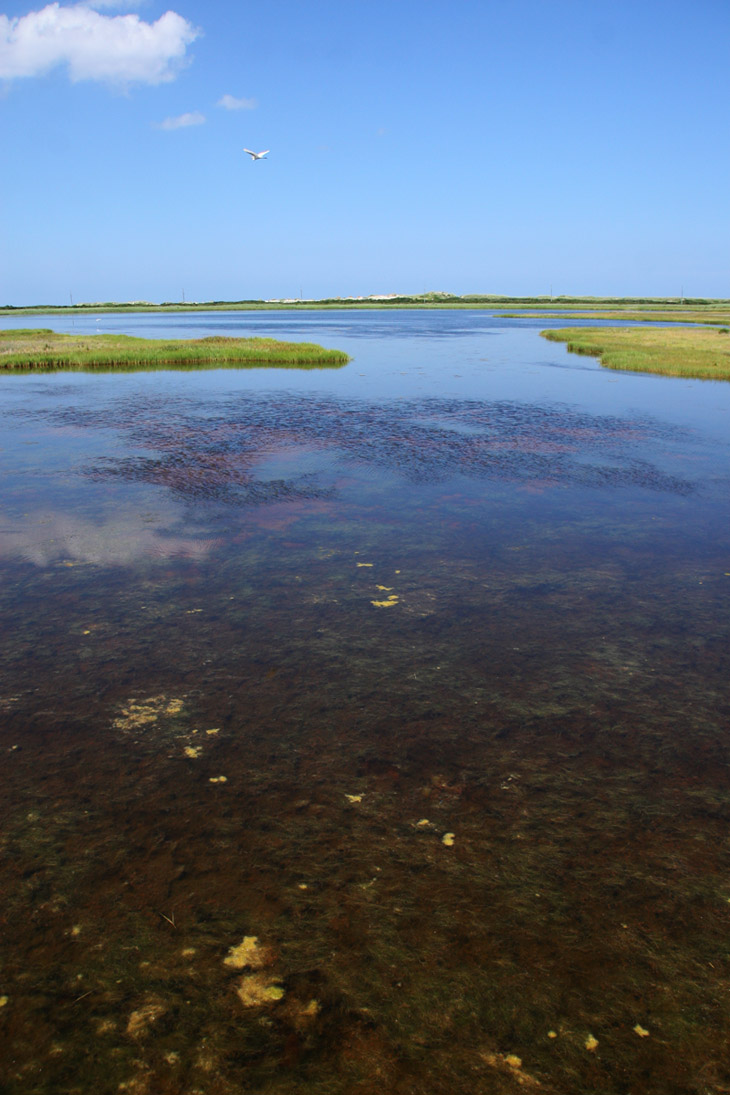 Above is the view from the platform seen in a previous image, looking out over the marsh area that borders the sound side of the barrier island – a great egret (Ardea alba) made an appearance but wasn't inclined to venture closer for a better portrait.
Directly across NC 12 from the drive to the Bodie Island lighthouse is a beach access, also quite crowded when I was there, so I only snagged a few frames – again, purposefully cropping out as much evidence of people as I could. The towering cumulus gave me the opportunity to work a vertical composition – anything horizontal or showing the nearby ocean would have had kids and boogie boards in it. Be patient – I did a little better later on. Many years ago during a stormier trip, I captured some intriguing cloud formations at the very same beach, this time a bit more sparsely populated.
By the way, if you want to see the noisy bridge featured in the podcast, this placemark will pinpoint it for you. Going back through the archive imagery (click on the photo date at the bottom of the map window in Google Earth) will let you see the storm damage that occurred, making the bridge necessary. It illustrates the hazards of living in an area exposed so readily to hurricanes.
Naturally, I can't neglect noting the names of the various areas mentioned, so you know how to spell them: Avon, Bodie Island, Buxton, Corolla, Duck, Kill Devil Hills, Kitty Hawk, Manteo, Nag's Head, Pea Island, Roanoke Island, Rodanthe, Salvo, and Waves. Well worth a visit, but if you don't like crowds, aim for a quieter season than I did.