So, last night I finally got around to updating the Latest Images gallery, which had sat dormant for, seriously, don't ask how long, mostly because I was posting all of my latest images instead. There's nothing that said that I couldn't put them in both places, for those who only went to the blog or only went to the galleries, and you know, the galleries are supposed to be the 'landing' pages of the site, so I'm planning on making updates a more regular, semi-scheduled thing (which means the reminders are already in the calendar.) So some/most of the images have appeared here on the blog before, but so what who cares?
While gathering them, however, I came across a lot of colorful frames in the Leaves/Plants/Trees folder, appreciating the brightness in these drab winter days, and since it's damn cold out there right now and this is true for most of the eastern seaboard, I figured we needed a color day. Above (and appearing before,) we have one of the delphinium blooms from a plant I bought last year, that I'm hoping comes back this year because, damn, look at them! They're pretty cool.
Most of these are reasonably local, by the way, if not necessary 'native.'

This is a firewheel, a type of aster, and I'm pretty sure it was in the pollinator garden at Gold Park, but so what who cares? It came up pretty quickly when I did a search based on the rough description – those yellow tips are distinct.

Mimosa blossoms of course, from the neighborhood pond. I've collected a bunch of seed pods of these now, intending to start them indoors within the next month, because they're cool trees to have around. Maybe I'll try to breed a variant that aggressively kills all of the longneedle pines in the state…

Wisteria cluster, of course, also from the nearby pond. They're one of the species that makes the season firmly 'spring' around here.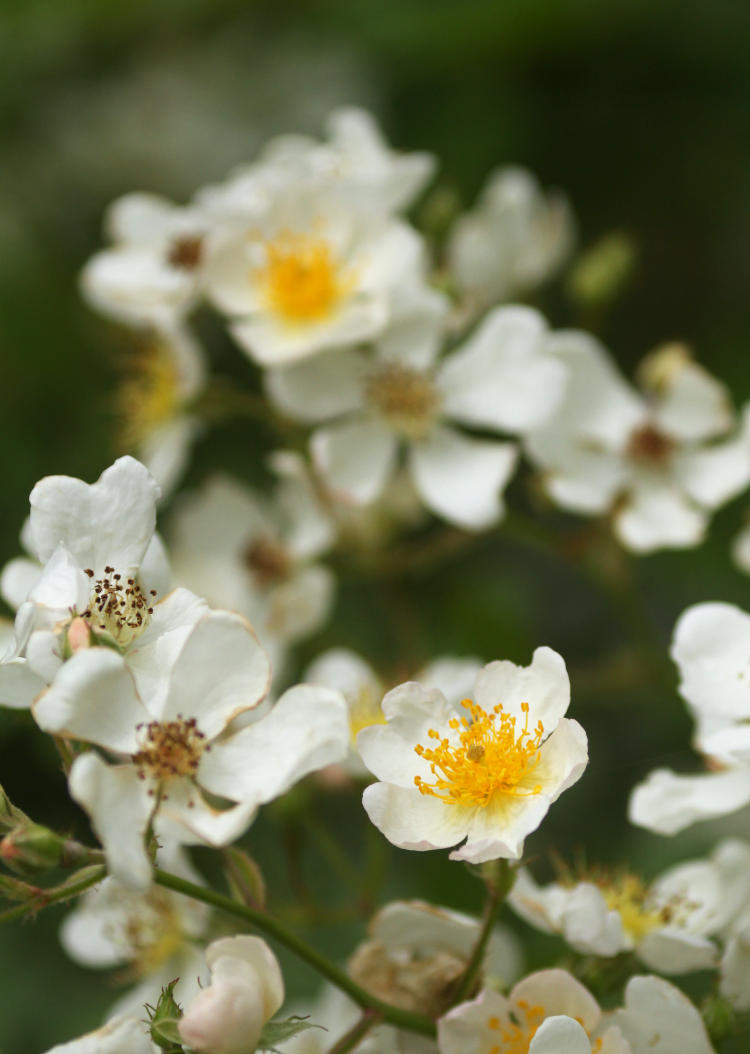 I'd have to go back and check the dates and I don't feel like that right now, but I think these are the cherry blossoms from the tree right in our own front yard. You'd think I could definitively recognize them by now, but so what who cares? They're white with some yellow, which is the purpose of this post.

Blackberry lilies, definitely from our own front garden, a nice late bloomer. We're not going chronologically here, but trying to balance out the various colors.
Speaking of that…

Partridge peas, almost certainly from Mason Farm Biological Reserve because that's almost the only place I ever see them. I realized that I had no yellow in the lineup and went looking for an example, with a bonus of the attendant green. There are remarkably few green flowers, you know? I mean, worldwide.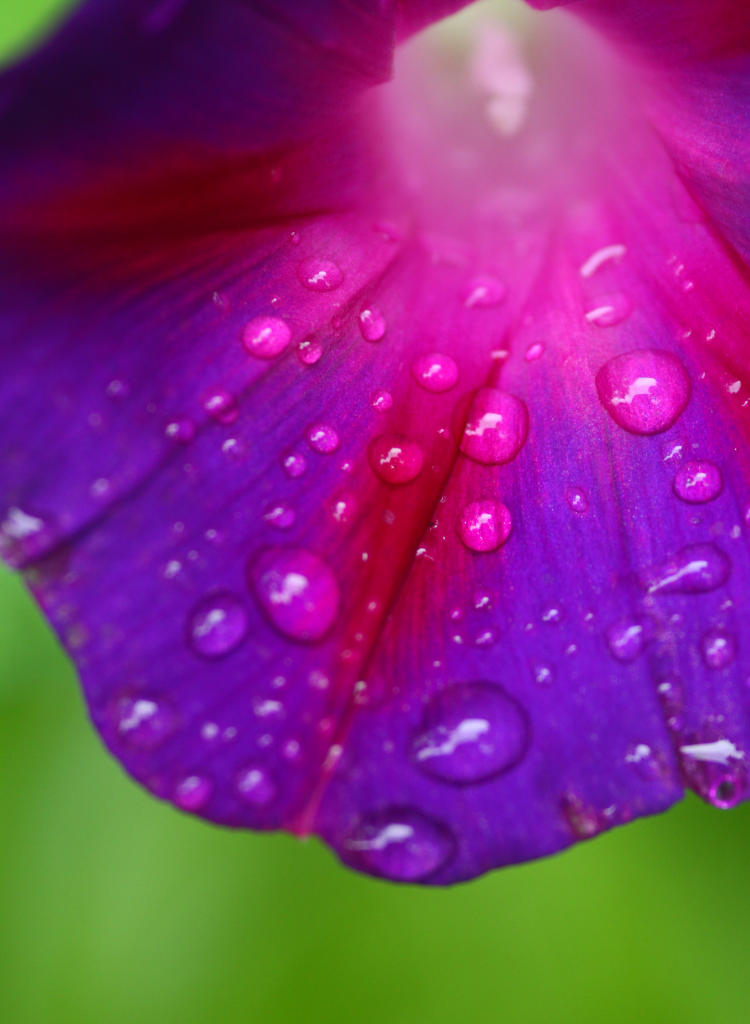 The planted morning glories have certainly appeared here before, and in fact I tried not to post them too often, but they're pretty cool looking nonetheless. Definitely adding more of them this year, though likely with a little more color variety.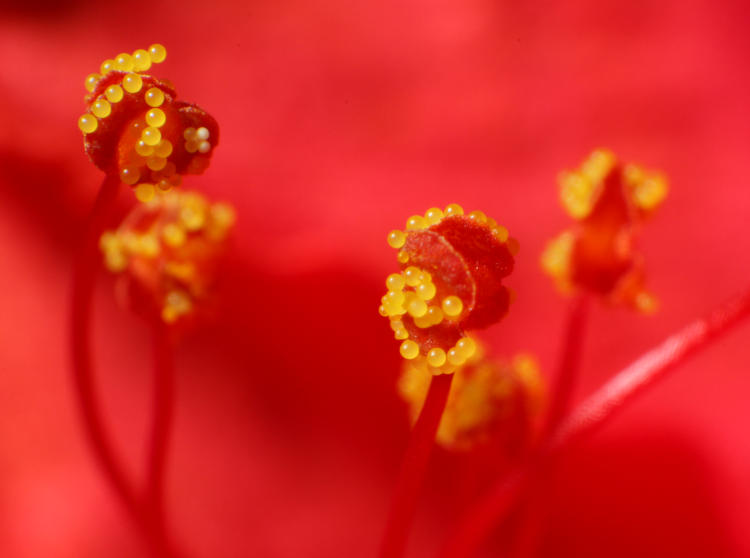 The pollen within four-o'clock blooms is more distinct that many other flowers, and reflect the flash nicely for those glossy-orb highlights, but it does take some higher magnifications.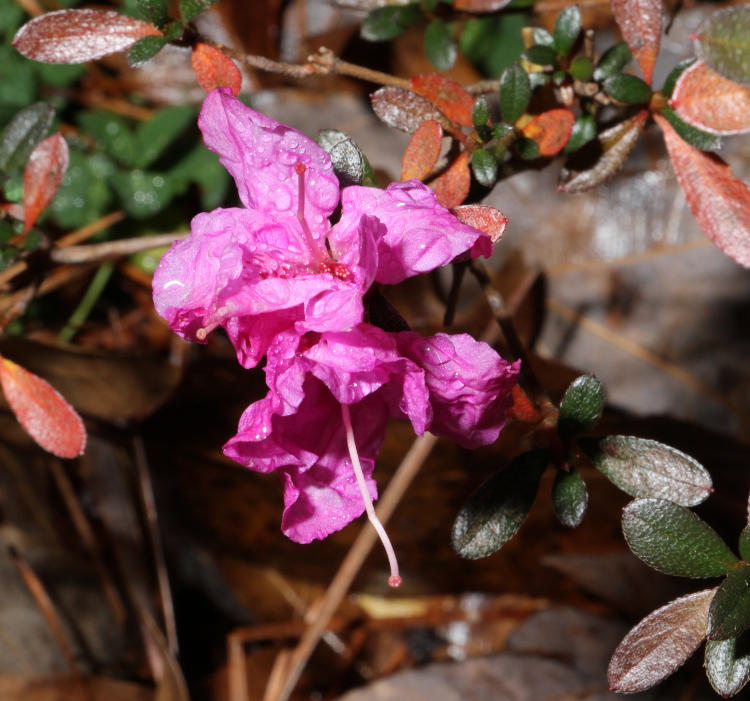 We're going a lot more current now, because this is from December 7th, one of the azaleas bushes within the front yard. Only this little patch bloomed, and I don't know why – possibly a prank pulled on it by neighboring branches, "Hey, hurry up, it's spring, you're late!" Or something. I'm not going to speculate what goes through the minds of flowers.
But even more current is our last today.

I'd seen this a couple days back and though to check it right before starting this post, so this is about as current as we get, but this is from early this afternoon, a frostbitten phlox (or maybe periwinkle – The Girlfriend's Sprog and I have debated it without reaching a conclusion) attempting to weather the sub-freezing temperature right now. Again, all by itself and well in advance (or way the hell behind) the normal blooming season, but this species, whatever it is, has a little more tendency towards this because I've caught it before. So it's some color for today, from today, so that makes this post extra-special, right? Of course it does.