We're sitting here with dire threats of horrible weather if we don't eat our vegetables, though as I type this not a damn thing is going on. We'd had a bit of rain overnight, and this morning while it was still a little misty I did a handful of photos out in the yard. Above, one of the oak-leaf hydrangeas (Hydrangea quercifolia) shows some new buds while still retaining a leaf from last year, demonstrating a curious trait: the new buds are definitely a bit hydrophobic, causing the water drops to bead up, while the old leaf is just the opposite, allowing the water to adhere smoothly and evenly. Why? Shit, don't ask me, I just takes picchers…
I shot a similar composition of The Girlfriend's Yoshino cherry tree, just breaking out into bloom.

I think the tree still has two leaves from last year clinging stubbornly to the branches, so I framed one of them for this shot, then concentrated on the new blooms for more fartsy stuff.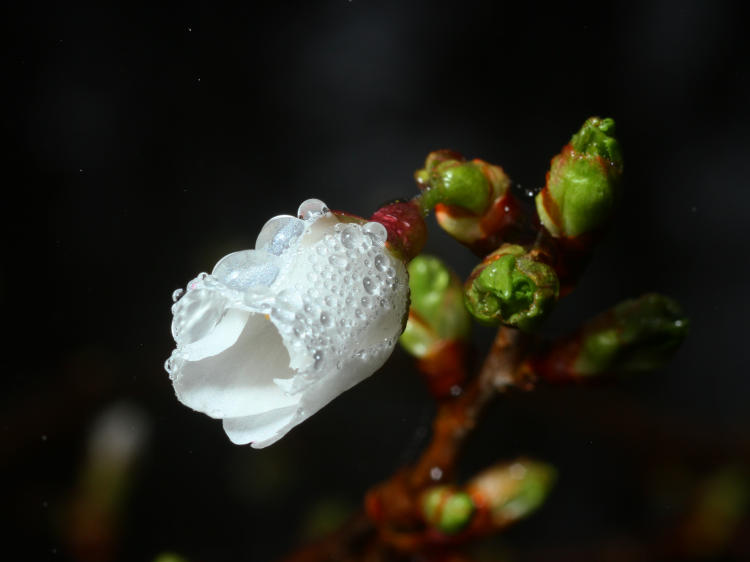 Yeah, I know, there's probably a few hundred photos of water drops on leaves and petals on the blog alone, to say nothing of my stock folders. But would you rather see these, or still-mostly-dead grass and bare trees? Okay then. And you probably blew past this so fast you never noticed how the flash snagged a few mist droplets in the air
There's detail on that flower that deserves a closer look, so lucky for you I'm right here on it.

Pretty cool, right? I know you feel bad now for judging me as trite and stuck in a rut.
The sky was overcast, so natural light photos tended to be a bit lackluster, also requiring a wide-open aperture and slower shutter speed, so most of those aren't all that great, but I happened to like the one following, of some tulips we planted this past week.

That's some serious fart, right there. Just brimming with culture. Like moldy yogurt.
My favorite, however, was a wild plant springing up in the edge of one of our pots, not something that we planted.

It looks a lot like shamrocks, and might actually be a species of Oxalis, but for now it remains unidentified. The leaf clusters are very small, less than a centimeter across, so much smaller than the typical Oxalis species. And yes, I'm a day late – oh well, better luck next year.
*     *     *
Side note: I was finishing this post just as the rain started in earnest, and I sat on it to see if I'd have any cool photos to add – we were told big-ass hail, high winds, and tornado warnings, so, you know, drama. We got rain, and not even as heavy as some of the interminable winter rains. Ho hum.
In other news, the countdown continues – we're three away!