Don't ask me why, because I could have done this at any time, but putting together these 'On this date' posts serves as a reminder of what was going on in my life at times past, and it's fun to find little gems to feature. The image above is used in several of my presentations and in a few posts, and I think it might even have been in the cropping video – I'm not going back through it this morning to see if I'm correct, but you're welcome to. In the folders, it sits nestled among numerous others that tell me it was shot while my brother was visiting me in Florida, and we were out investigating what the Indian River Lagoon had to offer. It became a lot stronger with some strategic cropping, the version shown here, and now I don't even want to let people see the original. For the record, this is a great blue heron (Ardea herodias) done in 2004.
Two years later in 2006, I had taken a few hours to drive around at random, doing experiments with both B&W film and digital infra-red on the Canon Pro 90 IS, and I think I might even have been shooting some infra-red film too – they were all about the same timeframe, at least, but of course I have no date stamps on the film.
The Pro 90 actually autofocused in IR, which made it handy for such uses, and the Lee 87C filter rendered the image in a particular shade of washed-out lavender; that's the original seen at right. Converting it to greyscale and boosting the contrast very selectively gives the version above, cropped vertically to change the impact of the elements within the frame – this one I am sure was featured in the cropping video. Last year for the Storytime posts, the monochrome film version was featured, so you can (kinda) see what it looked like in visible light. Shame I didn't do a little more research and feature it on the correct anniversary date; wouldn't that have been so cool?!?!
[Seriously, I try to do things like that, without any particular reason why, and then realize how ludicrous it is to worry about. Exactly a factor of 365 days ago – more or less kinda, because the year is not exactly 365 days long; it's goofy. But it gives me a topic for these posts, so…]
And no, the camera was actually level (this time) – it's the ground that's sloped, in multiple directions.

Now, we leap all the way forward to 2015.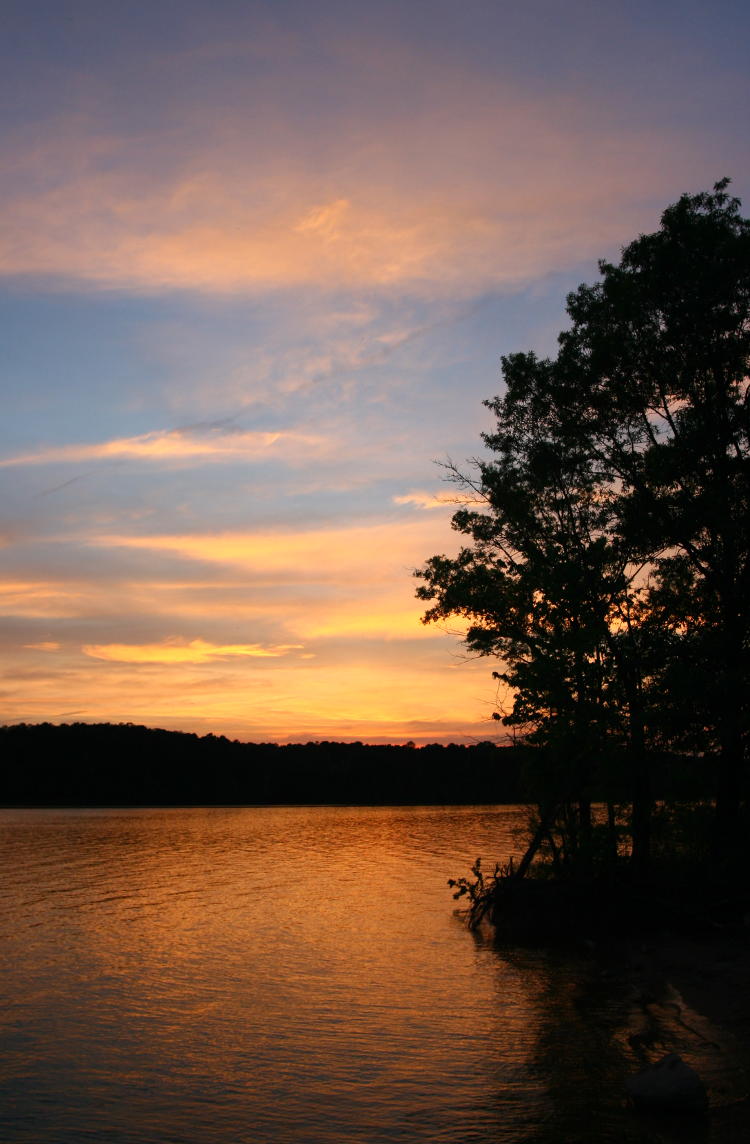 Five years ago today – well, a few hours from now at least, kinda, depending on how you calculate a year – I was out with a student who wanted to learn how to shoot sunsets, and the weather cooperated slightly. More, I chose (and demonstrated) selective framing to make the most out of the patch of sky where the colors were the most dramatic, with very few choices for foreground elements. Seen by itself, it works okay, certainly providing more color than average, but it's not hard to find more captivating sunsets, which is part of the student lesson: it's much more a matter of timing and conditions than of knowing how to take the photos, though the latter certainly helps a lot. The tree helps disguise the fact that the sky is not strong enough on its own, and even draws attention away from the plane contrail that would be too obvious otherwise. It's not hard to have deep black sections in sunset photos, since everything is backlit and the exposure is typically set to capture the sky in midtones, but those black portions provide contrast for the colors and make them seem more vivid. So, hopefully, I provided some useful information for the student – maybe someday I'll implement an exit survey or something…