It's that time all my readers have been waiting for (if I had any, though if I did, they wouldn't): the annual tag roundup! Yes, again – we'll keep doing this until I run out of good puns for the title. Go on – I fed you that one.
In the Walkabout Universe, tags are not just categories of topics or commonality, they're also brief sardonic commentary on the posts, icing on the urinal cake, as it were. To this end, we end up with a lot of one-time-only tags herein, because I'm the kind of guy that often mutters some rejoinder at the ends of conversations (I was raised on M*A*S*H and Alan Alda, so…)
But let's take a look at what you might have missed, had you not been checking routinely already and if you're actually reading in the first place.
Stone'enge – A subtle reference to the same movie that the title makes, but you're well-versed in the classics so this won't escape you
I had fun typing up that document – It was especially timely, too
do I really need the bustle for this? – All that effort for a bit part
the lurking gender change? – But it's art, so anything goes
What the fuck's up Doc? – As well as, 'don't look at the fuckin' leaves.' Only one of these is actually mine. I tried looking up the word he uses multiple times in there but none of my variations of, "sasepatose," elicited a match
Tackle Me Elmo – It will be almost immediately apparent
now pout – some photographers have it easy
ass-of-no-color shama thank you – Gotta stay with the times. But this is a feature of someone else's photos, so go anyway
where the hell is the Down switch? – You'd think they'd have this down pat
contrasty balls of some sort – Probably not what you're imagining, mostly because you're imaginary anyway. The following post enlightens, however
But what kind of school? – Those nagging questions. But it's an excuse to link to a couple of photos that I like
foul-mouthed little shit – Not me this time, believe it or not. This is my revenge for family members that don't read my stuff
is that a gnat in your pocket? – No size queens in this kingdom, er, phylum
all about the spin – As well as, 'certainly not the Benjamins.' But in terms of personal enrichment… well, it ain't got that either
Scared? Me? Pshaw! – Though his pink flap is bigger than mine…
it's got critters too – No matter what the genre, that's important criteria (Hah! Another pun!)
where's my Mola Ram helmet? – You can never find that when you need it
but look how sharp the fish is – Actually, in terms of panning, this is not too shabby
Pesky Al's Wager – I'm kinda proud of this one, which only illustrates my standards. Like the rest of the site doesn't do that enough…
And a few older ones that didn't get included in previous iterations:
this is important – From years ago, but what a subtle hint about the photo. If that wasn't enough, two posts further along will help, and if that's not enough, think mashed potatoes.
fauxquiescence – I still love this word. Your dictionary probably needs updating
he stayed home with Willie duh – I'm not sure who was more shrill…
actually it's more aureolin – Get your mind out of the gutter
And finally,
sorry I'm off the market ladies – I can hear the hearts breaking from here.
The previous tag roundups (man, look how long I've been doing this) are below:
2015: Tagged
2016: Tagged again
2017: Papa's got a brand new tag
2018: So what did 2017 hold?
2019: Do not read tag under penalty of law
2020: Tagginses! We hates it forever!
2021: Tag 'em and bag 'em
2022: I don't mean to tag, but…


Now let's have a fond look back at the holidays we all celebrated in 2022:
Household Ingredients Day, January 31
Delete Your Fucking Facebook Horseshit Day, February 23
Take Far Longer On A Project Than Planned And Ruin Your Schedule Day, March 20
Finally Make A Bare Minimum Advance Towards Goals Day, April 17
Were Those Really Seeds Day?, May 20
Return with Topspin Day, June 27
Thin Out The Blog Folder Day, July 31
Not Everything Blooms In The Spring Day, August 17
Put On Long Pants For The First Time Since, What, Early May? Day, September 24th
Spot a South American Rodent Outside of a Zoo Day, October 26th
Pollinate The Lemon Trees Wintering In The Greenhouse Day, November 28th
Expand on Initial Experiments Week, December 17th
Boy, not the most inspired list of holidays there, but still better than the National Day of Prayer. Well, sure, fine, that's a pretty low bar to clear, but at least I… oh, never mind. Let's move on to the actual counts for 2022.

We can see that 2022 backed away from the count for 2021, itself behind 2020, making us take a strong third in the lineup. Not surprising, given how little traveling was done, and truth be told, the numbers just can't keep increasing without, at least, some kind of economic incentive. For instance, if each reader gave just one dollar right now, I could get a cup of tea. Just not from Starbucks.

You already know that we hit 2,500 posts in late December, and while this year also fell behind last year a bit, not by too much really, and still well ahead of 2020. All of that still the quality content that you've come to expect.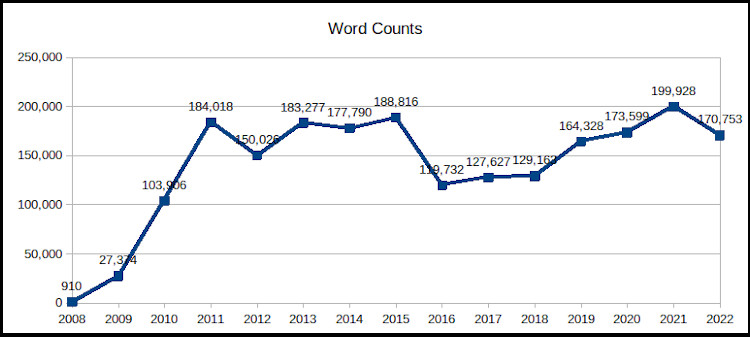 Good gracious, while not seeming to drop out of the trend too far, 2022 takes seventh place in the lineup of word count – that's enough to keep us out of the qualifiers this year! This is gonna be a tough nut to hoe for our crack team of writers (who just wrote that line, so…)
Overall, the blog contains about 2.1 million words – I mean, not different words, there are probably a handful of repeats in there but, you know, they still had to be typed. According to the WordPress plugin, it should take 11 1/2 hours to read through this year, not counting bathroom breaks. Perfect for waiting on the doctor and flights and so on.
So what do all these numbers mean? Not a damn thing. We're just a species that likes comparing shit like this, some inherent competitive urges.
I also have to point out that while only two podcasts were produced this year, there were 14 of my own videos uploaded, which is no small amount of effort there, and some of them had behavior that I was quite pleased to get – as I mentioned in the last podcast, I had a pretty decent amount of luck this year. is this the start of a new trend? We'll just have to wait and find out I guess, but I'll do what I can to help it along. I mean, we already have a fabulous clip posted for 2023.
So that's our recap for 2022. Be sure to catch us again this time next year for more nonsense and whinging!